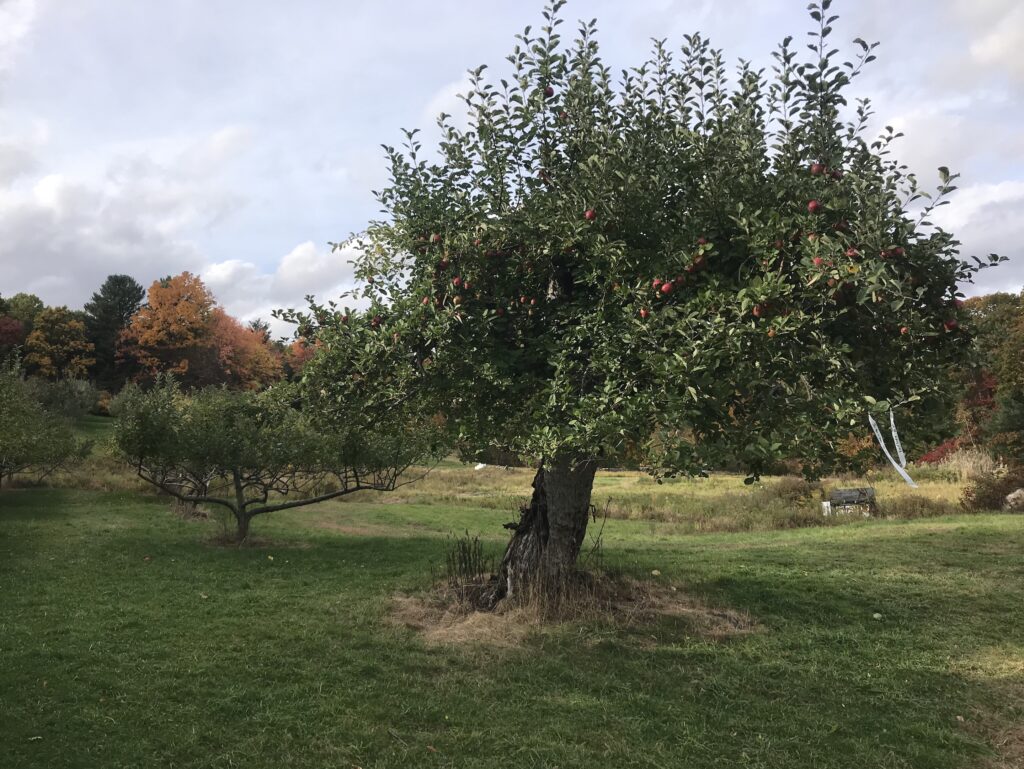 Wightman Fruit Farms say that they're closed on their Instagram account, but we found them open for picking yesterday from their small selection of heirloom apples and grapes. If they close this week, you can still pick apples from their cooler and put cash in the box. Wightman's have an historic, 150-year-old tree called The King of Tomkins (pictured above) that is still full of fruit. The apples are larger than usual, crisp and juicy. They made a beautiful apple crisp.
Wightman's charge $15 for a peck of apples, $25 for the honey crisp. If you're still looking for outdoor dating ideas, you're not going to get anything more romantic than disappearing amidst the rows of low-rising fruit trees, especially as the temperatures are still hovering around 60F until Saturday – the forecast calls for 70F on Thursday. Call ahead first to see if farms are open. Some farms in the Hudson Valley still operate if you pre-book an appointment, or their farm stands are open.
JL Orchards in New Paltz still had apples to pick this past weekend. Check their website for their apple picking update. Wright's Farm in Gardiner were open last weekend and they are dog-friendly. Wright's farm market is open year-round. Stone Ridge Orchard in Stone Ridge has a farmstead and a farm bar with pizza, cider, NYS beers and wine tastings. They have U-Pick apples now. Call them for availability.