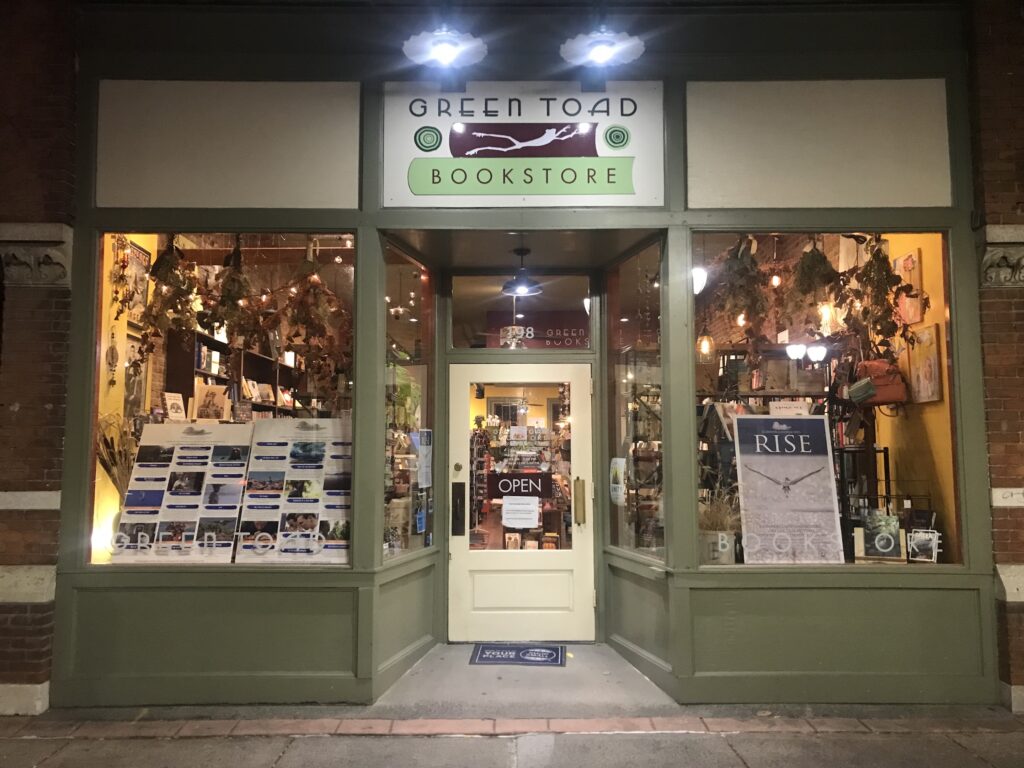 I've been in the Catskills for 18 months, leaving once or twice on occasion, but only for a few hours. For a frequent, avid traveller this is something of a record. I'm used to getting on planes and escaping whenever I feel like it, but as a writer, I also know we can travel through books. Wherever I have travelled, I have always bought a couple of books from the local used bookstore, and I always leave a book in my hotel room or rental.
Last week, I joked with a friend that one day books might be obsolete because they provide only words, not video: your imagination must provide the rest. I hope this isn't true. I know at least one person who credits his imagination to a love of books in his early life. It's my goal to read all the books and one day have a book barn and reading room, but until then I would recommend a book tour of the Catskills.
Although there are book sellers, there are very few book stores within the boundary of Catskill Park, in the midst of the mountains where Upstate Dispatch is based (the so-called "blue line"), our side of the Hudson River. Technically, there may be only two: The Golden Notebook in Woodstock (open all week). Woodstock is the quintessential Catskills town through which every local should take an early evening stroll at least once a year for the sheer romance alone. If you're in love with a book nerd, spend all afternoon in the Golden Notebook, then treat yourself to dinner (the fabulous Cucina is open all week) or ice-cream at Sweet Dreams, which is open all week.
Briars and Brambles Books, Windham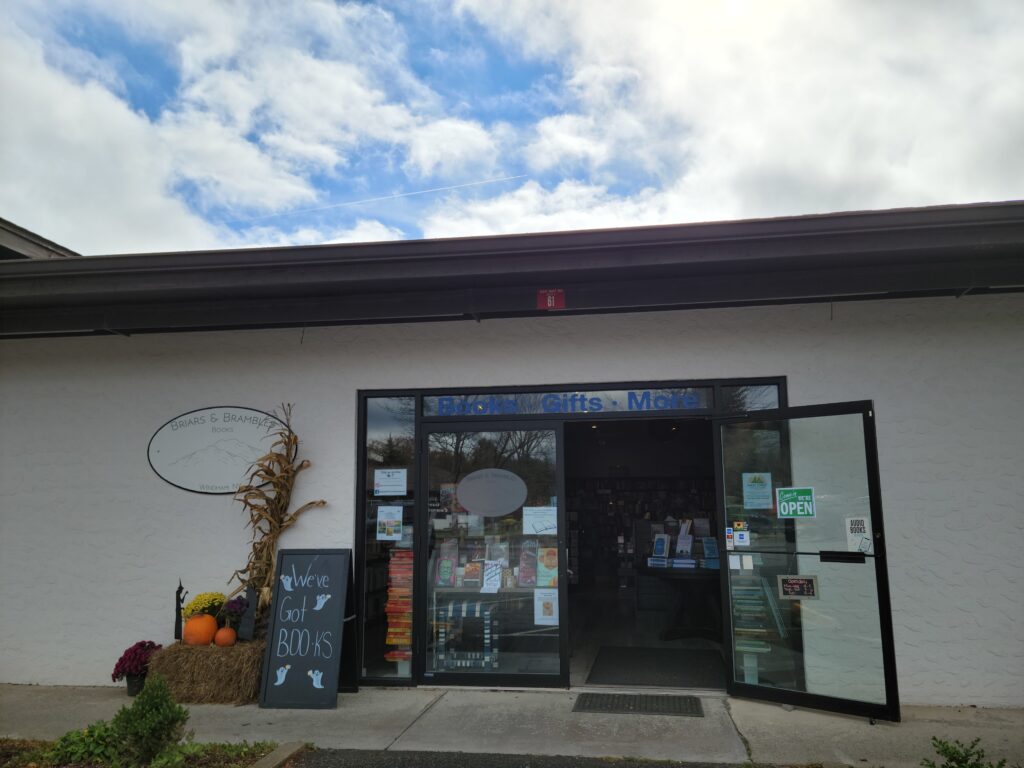 Update: This book store is on the list to visit. It's open all week. Watch this space.
On the outskirts of the Catskills, there are book stores in major town on your way into the heart of the Catskills. Please stop at one when you visit. As one owner told me yesterday: "you don't make any money from the books. You have to offer the gift items too", so buy a coffee, eat a pastry, read a book. Schedule chores and errands around a book store to relieve the boredom.
The Green Toad Book Store, Oneonta
(Pictured top) For a bookworm, there's something magical about finding yourself on a deserted Main Street mid-week in the early dusk of autumn. It's as if you're getting a personal tour through history like you're in an empty museum. To then chance on the welcoming lights of a book shop makes the experience even more memorable. The Green Toad in Oneonta, which is also open all week except Sundays from 9am to 7pm, is accompanied on Main Street by some wonderful restaurants, so if you're driving in from the north or west, you can eat curry or shop in the market before strolling back to your car. Parking on Main Street is free. If you're visiting during the day, there is a coffee shop connected to the book shop by an internal door. Not only is The Green Toad is packed to bursting with books, it's filled with gifts and cards. Books: The Overstory by Richard Powers and Kitchen Confidential by Anthony Bourdain.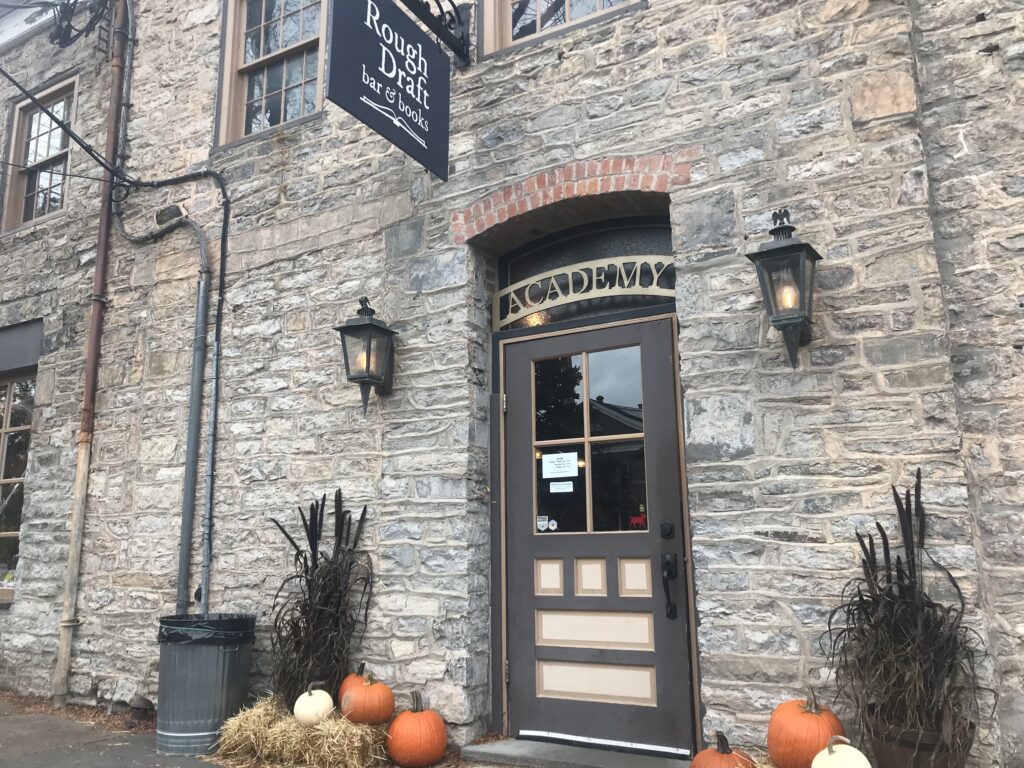 Rough Draft, open all week, situated on a historic crossroads in Kingston, is half-coffee house and half bookshop with a large coffee bar, lots of inside seating, wide range of beverages and snacks, but most noteworthy for parents: quite a large percentage of the books seemed to be devoted to children's books with a rug for them to sit on. If you're coming up from New York City on a Friday night you can bring the children here for a pit-stop until 8pm. Local parking is metered. Books bought: World Travel by Anthony Bourdain, Eat Pray Love by Elizabeth Gilbert, and I Eat Poop (essential reading) by Mark Pett.
On the Trailways Bus Route, Barner Books in New Paltz is open all week from 10am to 6pm. Also Inquiring Minds, in both New Paltz and Saugerties locations, is open all week according to the website. There is also Our Bookshop in Saugerties. In Rosendale: Postmark Books.
On the Hudson Valley Amtrak line and off the I-87: Magpie Books in Catskill & Spotty Dog Books & Ale in Hudson.
There's also a book village in Hobart that's not in the mountains, but within the Watershed boundary, only open on the weekends.
As opening hours change with seasons and the weather going into winter, please double check the websites, or call ahead to confirm days or times.