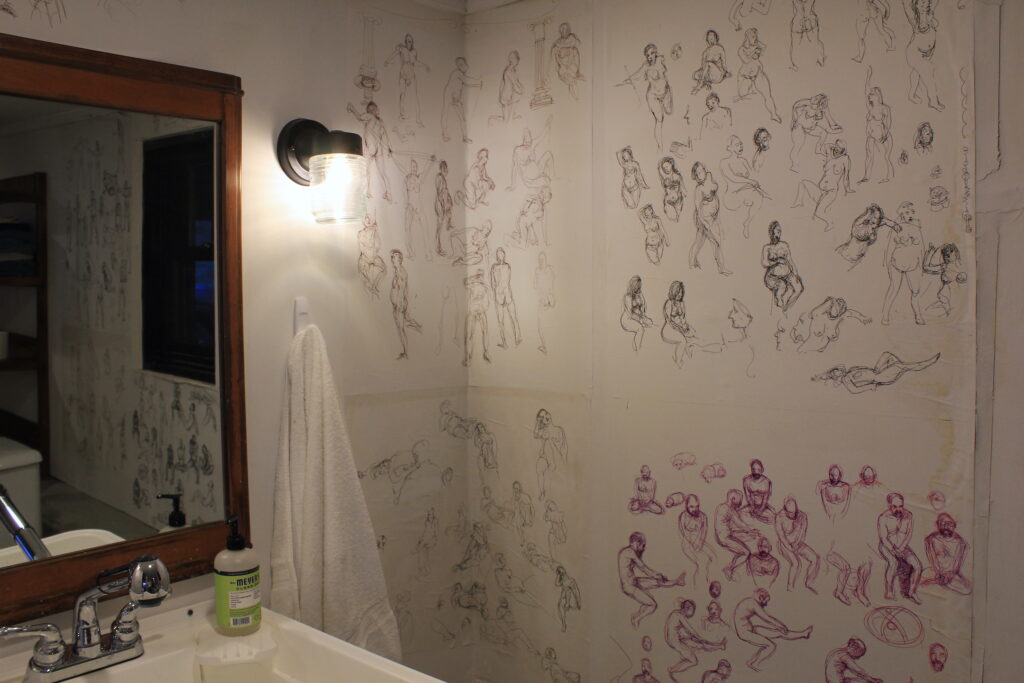 The first piece of art I bought was in a basement underneath one of the pylons of the Williamsburg Bridge in 1998. The interior of this labyrinthian basement had been painted white and divided into booths by artists who couldn't find representation. I bought an oil painting by Lisa Creagh for $900 and paid for it in installments over three months. Brooklyn artists would inhabit empty shopfronts in the desolate parts of Brooklyn, like Greenpoint and Williamsburg near the waterfront back in the nineteen-nineties. That memory returned to me when I went to hang my work in the basement at The Andes Academy of Art in Andes.
The Academy had its first exhibit of small works beginning with an opening reception on October 29th, 2022. I was honored to be included, and excited to be part of this talented group, offering one of my bird illustrations in watercolor. Also included is work by William Duke, Gary Mayer, and the inestimable Sandy Finkenberg, among others. Life drawing alongside Sandy and hearing her greatest tips has been a highlight of my year. The extraordinary artist Peter Mayer, who as a life drawer has a unique talent for capturing a subject's stance and posture ("if you're having problems getting it, start with the feet", he told me), draws small figures on massive pieces of paper that have been papered to the walls in the bathroom at the Academy.
Thanks to William Duke for bringing us together; the camaraderie is real, as artists almost never get together in large groups like we have been. The life drawing class has been a bit of a lifeline this year and we've reached our fifth year of sketching, having started out in 2017 at Willow Drey Farm.
A broadsheet is published monthly, called State Of The Art beginning November 2022 which details art news in the Catskills.
Andes Academy of Art, 506 Main Street, Andes, NY 12444. Open Saturdays 2-4pm until December 10th, 2022.