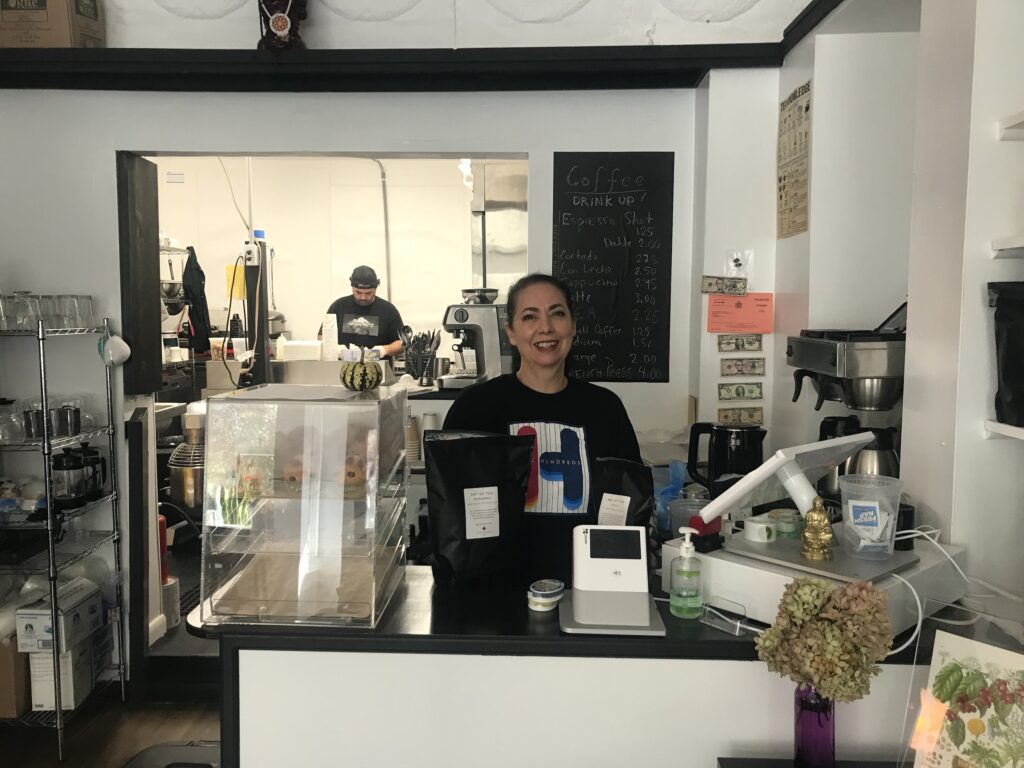 "In New York City, when I decided to abandon my PHd and my years of academic training, I had to rethink: what am I going to do? I've spent all these years studying to be a professor, but it just wasn't for me". Christine Panas, co-owner of the recently-opened Village East Café in Fleischmanns has always loved food. "My thesis was on the Romanization of Southern Spain in the pre-imperial period. Very esoteric – but my thesis still included food. When I was working abroad as an archeologist in places like Turkey, I was only ever thinking about food. I was more interested in the local food and the local people".
And Panas certainly digs in to her responsibility to the grateful people of Fleischmanns who have longed for a year-round café like this for years. "I've done a lot of openings in the restaurant business in New York and other parts of the country and I never felt that kind of love where people came in and hugged me. Usually the feedback is about the mistakes that you've made", says Panas. Here, in Fleischmanns, residents appreciate the fact that she cares enough to have set up shop here where during the week, off-season especially, life was excruciatingly quiet for many years. 
"I should have been an anthropologist rather than an archeologist", she says, laughing. "Because I enjoyed the people. I liked to go into villages. I liked to be invited into peoples' homes and eat their traditional foods. I loved it. I would never give that experience up".
Panas brings all of that history and knowledge to the store that was a year in the making, because it's no mere coffee shop. It's more like a culinary apothecary. There is a coffee/tea station with a hand-painted mural, three large tables and stool seating by the window, but there are also packaged specialty staples that are emblematic of Panas' scientific approach to cooking and eating. "I'm a nerd," she says. "I need to know where everything comes from".
Alongside the small-batch tea and coffee, there are hot peppers (accompanied by their own large-font heat chart), heritage beans, rice, and mushrooms, all getting their own dedicated niche in the walls, and some are sold in clear jars like they are rare specimens. For example, there is bamboo rice available, a Japanese product that has been polished, and infused with bamboo juice that gives it a green jade color.
Panas has a license to repack food which she does in its plain packaging – clear jars, plastic bags or larger envelope-style brown paper sachets – that allows her to sell at a much better price. She also has a license to mix foods like spices, nuts and granolas.
"When you buy spice in the grocery store, first of all, it's probably very old by the time you get it. It's been through several steps to get to the process of being packaged and shipped. But the cost of a glass jar of spice in the grocery store is mostly the packaging and transportation. I buy from wholesalers and it's simply packaged when it arrives and I only repackage it when I'm weighing it out, and I put it in a plastic bag and I heat seal it. That way I can sell it at a really reasonable price rather than $7 or $8 for a quarter ounce or even less".
"Last week, a woman came in she had this look of panic and I said, can I help you? And she said: star anise! That was her answer. And I said yes [laughing]. She said I'm making pho and I can't make pho without star anise, so I weighed out some for her. She was so happy that it was here".
More important is that the prices are reasonable for both the coffee and the food served in the café and the packaged specialty food. A small regular coffee is $1.25 (medium is $1.50 and large is $2); a shot of espresso is $1.25; a double shot is $2; a cappuccino is $2.25; a latte is $3; tea is $2.25 per cup; a French press of coffee is $4. House muffins and brownies are $1.50. Soup is $4.50, salads $7.50 and sandwiches $8.95. There are always two vegetarian sandwiches that they will make vegan on request by using a product that is currently baked eggplant. They also have a baked chickpea patty which is like a falafel, that is freshly made on the day it's on the menu because it dries out so quickly. "For a long time, we were sourcing from local farms, but the season is kind of ending now".
Co-owner chef Mario, a Catskills native, who does all the cooking, makes fresh focaccia daily for all the sandwiches.
So what brought her to the Catskills? She was living in Brooklyn and visiting the Catskills with a local friend who kept urging her to buy a house here. Ten years ago, she bought a house in Fleischmanns. "I was traveling all over the world, had lived abroad and I just couldn't imagine having a responsibility like a property because I might have to pack up and move, right? But then I thought, where am I going to go? I'm now in New York what could possibly be next?"
The Village East Café, 1109 Main Street, Fleischmanns, NY 12430. Find them here on Instagram.