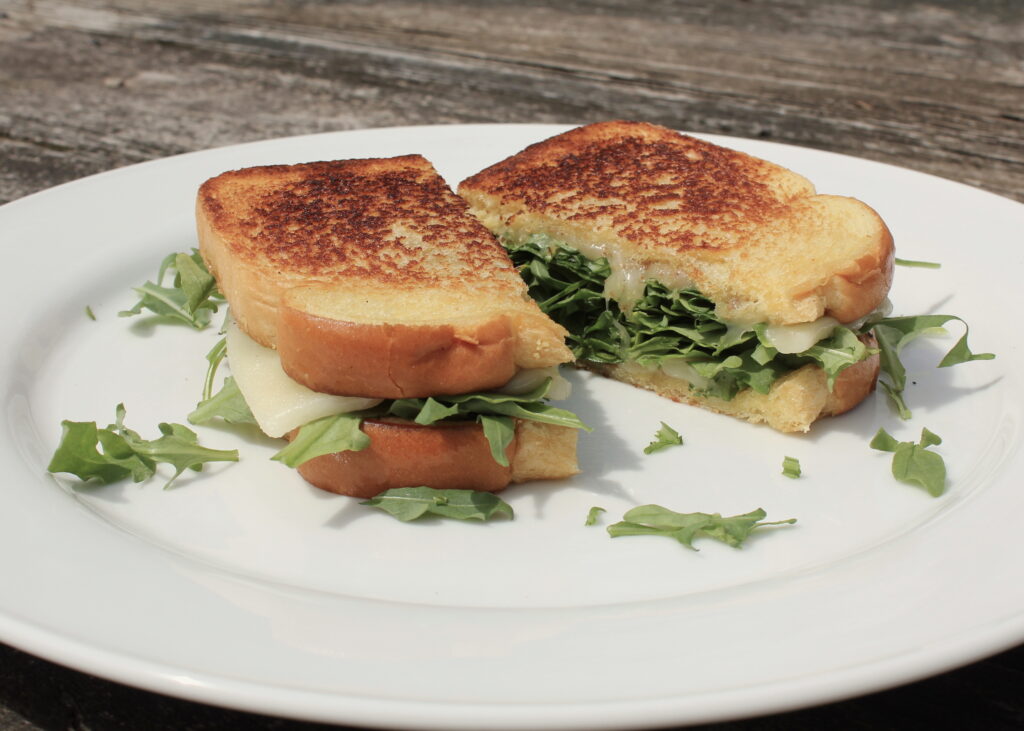 Spring is here and the wild edibles are unfurling. This week, we have garlic mustard around the raised beds here at Lazy Crazy Acres, in their second year. Leaves, shoots, seeds and the unopened flowers of garlic mustard are edible at certain stages of growth, and if you don't eat all of your crop it should be pulled because it's an invasive weed that crowds out native plants.
Greens like garlic mustard can be introduced into your spring diet by packing them into a grilled cheese. I got this idea from Dina Falconi's Foraging & Feasting: A Field Guide and Wild Food Cookbook – a must-have in every wild kitchen. In it, she details her "Wild Grilled Cheese Master Recipe", but there are a variety of ways to make the classic American grilled cheese. Every American has their own method as I discovered when I first arrived in the States. In England, we fry everything, even chocolate, so even I'm surprised that we didn't come up with the idea of frying a cheese sandwich in a pan. I was taught to cook a grilled cheese by my own American and that recipe is below.
I pair my sandwich with a homemade mushroom soup for some extra nutrients – and for dipping – and use fontina cheese, as recommended by Christine at Village East, because it melts easily.
Because the fontina cheese melts more readily than cheddar, I take the sandwich out of the pan before I add the greens unless I specifically want the greens to warm up or wilt. I mostly prefer them to retain their crunchiness because it's a nice antidote to the melted cheese, so more often that not, I add the greens and press the sandwich together while it is cooling. This recipe uses potato bread for its softness and of course, now we are experiencing a worldwide shortage of cooking oil, so we're saving bacon fat here on the farm. Or, if you have ramp butter left over, you can use that for a bit of extra wildness.
Grilled Cheese with Greens
Slices of Fontina Cheese
Oil or Fat
Butter
Potato Bread
Garlic Mustard Leaves or Arugula
Heat a large cast iron skillet and add a teaspoon of oil or fat. Lightly butter both sides of each slice of potato bread. Lightly toast both slices of bread on one side in a cast iron pan: about 1 minute, or longer if darker is your preference. Turn the bread over and add slices of fontina cheese. Cover with a saucepan lid and let the bread toast on that other side for a minute to melt the cheese, or until it reaches your desired level of browning. In or out of the pan, according to your preference: pile the greens onto the cheese and press the sandwich together.