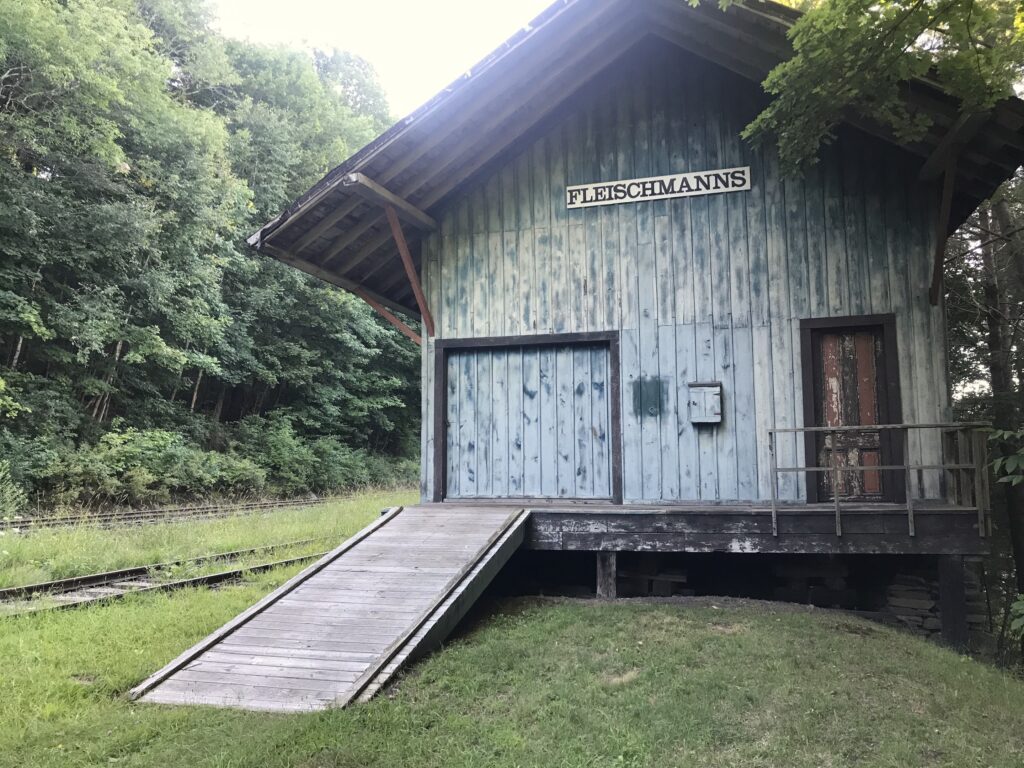 For many years, the only nightlife on Fleischmanns' Main Street was La Cabana Restaurant, which had village's only bar until it was joined by Goatie White's on Depot Street a few years ago, but over the summer the village got a taste of what residents would support. On a Sunday night over Memorial Day weekend, a backyard party hosting a variety show and music at the Arts Inn drew over a hundred people. The Inn's summer party in August was similarly attended. The large, grassed area and back porch was packed with revelers, young and old.
The Arts Inn is owned and run by Randy Leer and Heidi Stonier, who purchased the property on Main Street just as the pandemic hit and began to redecorate. The inn is the newest addition to Main Street and its presence has enlivened the village.
In the last decade, especially the last five years, Main Street in this "four seasons village" – meaning that it welcomes visitors year-round, including skiers – has experienced steady growth, offering more food and culture options. Opening times are limited, but the customers are ready. Main Street now has a thriving new art gallery with some truly remarkable shows that run roughly monthly in addition to musical evenings and poetry readings, a farm store selling locally grown produce, two new restaurants in the last year and the aforementioned arts center and inn. Over the summer, the East Branch of the Delaware River Plein Air Painters took over the old bank shopfront on Main Street and hosted a gallery of the groups' works. Soon, Main Street will have a wine bar in the old offices of the historic Purple Mountain Press called The Print Room. Residents are thrilled. Come visit!
STAY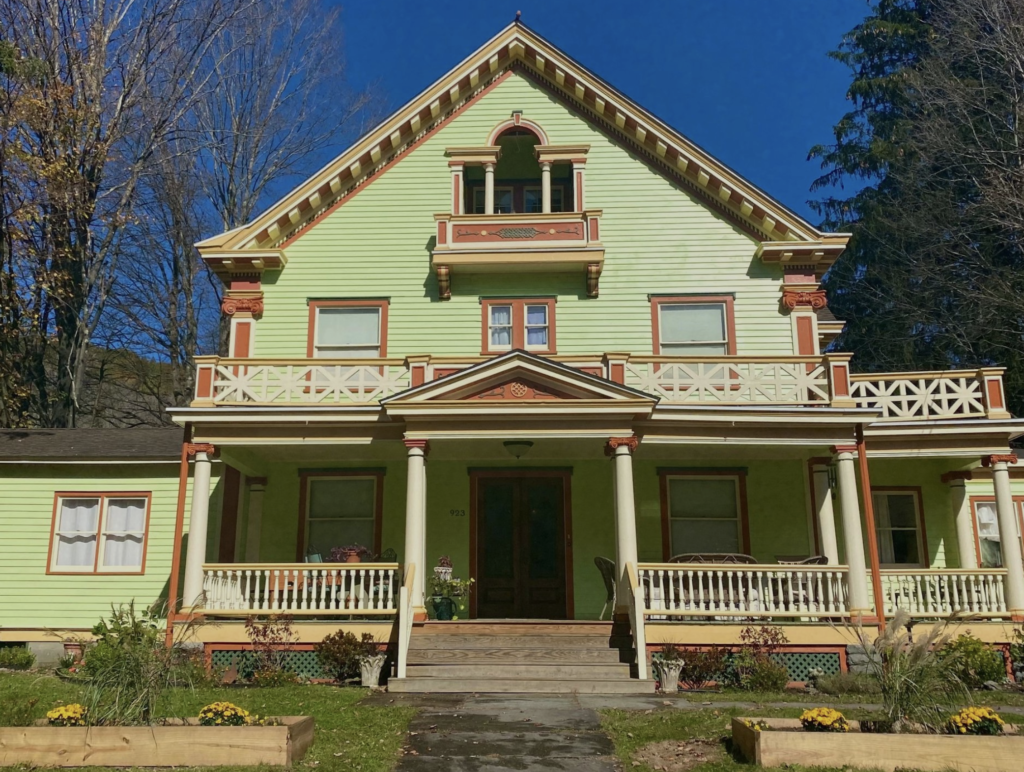 Arts Inn, 923 Main Street, Fleischmanns, NY 12430 (pictured above). An inn, with three rooms, that hosts musical events and gatherings. Guests have access to the first floor amenities including game room, music room, library, dining room and outdoor spaces. Yoga classes and homemade dinners available for purchase.
Breezy Hill Inn, 835 Breezy Hill Rd, Fleischmanns, NY 12430. Three rooms and a suite are available for booking, with the entire property also available for petite weddings and events.
There are a number of beautifully appointed cabins and lodges on AirBNB in the village and on the outskirts. One is Black Bear Ridge, a cozy contemporary 4-bedroomed cabin with mountain views, on 5 acres, within walking distance of Main Street.
EAT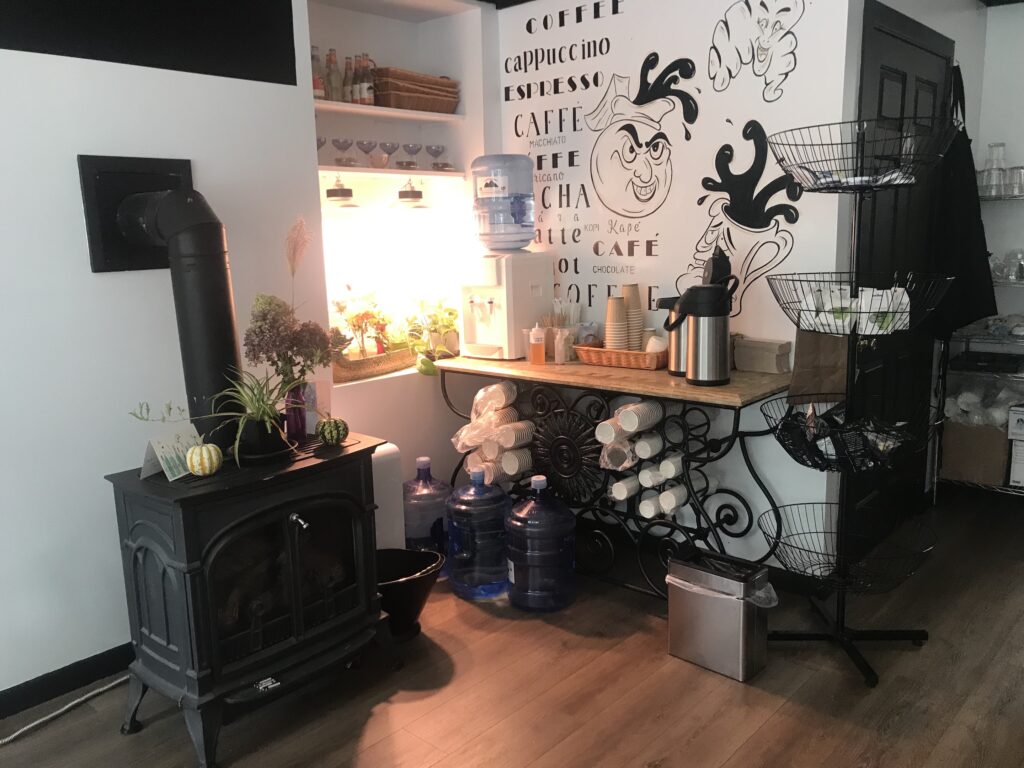 Village East, 1109 Main Street (pictured above): coffees & teas, house made breads, sandwiches, soups, salads, pastries. Read our interview with owner Christine here.
Aegean Flavor, 932 Main Street: exceptional Greek food, imported sodas and treats. Take out only, or outside tables. Read our review here.
Bebert's Moroccan Cafe, Main Street: Moroccan food, preserves, and spicy sauces and condiments.
Goatie White's, 46 Depot Street: American staples, a pizzeria, ice-cream parlor and small bar in a large restaurant. Plenty of parking, and outside tables in a park-like setting with a fireside patio for warmer days.
Opening hours vary: check social media for opening days and times.
DRINK
La Cabana, Main Street, Fleischmanns, NY 12430, and Goatie White's. Also, coming soon is The Print Room, a wine bar in the former Purple Mountain Press Building. Fleischmanns Supermarket, which stocks several good local and national beers, also has a liquor store for takeout wine and liquor.
PLAY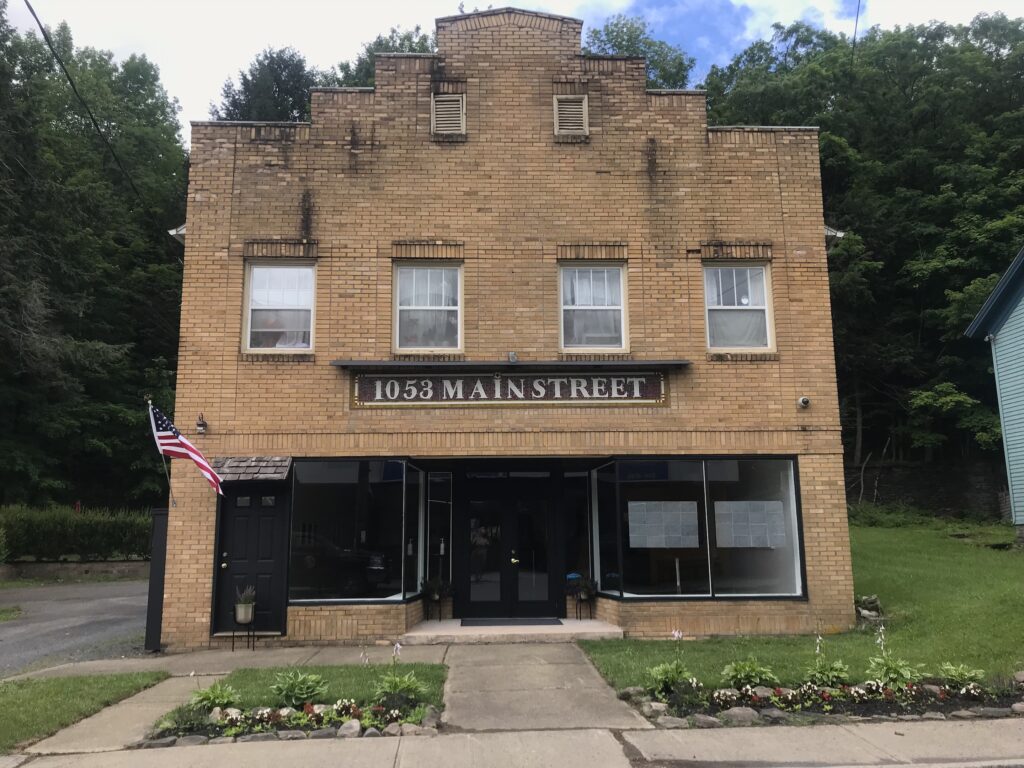 1053 Main Street Gallery, 1053 Main Street, Fleischmanns, NY 12430 (pictured above). An art gallery currently hosting Jeremy Freedman's photography, but recently showed Dan Hurlin's spectacular "Motel", a large-scale model of a scene in a motel room that could be looked into from above.
Fleischmanns has Skene Memorial Library for book lovers, and a large park through which the Bush Kill creek runs, perfect for cooling off in the summer heat. The park has a baseball diamond, tennis courts, a playground that is also accessible for children and caregivers with disabilities. A new bridge now connects Wagner Ave to Main Street for quicker access to the park from Main Street. In the summer get tennis classes from Mark at Tennis Everyone: mark@tenniseveryone.com. There are plans to upgrade the tennis courts next spring, and now Fleischmanns has a public, open-air swimming pool on Wagner Avenue that was open all summer of 2022.
A full facility rental hosting weddings and, next year, workshops: Spillian, 50 Fleischmanns Heights Rd, Fleischmanns, NY 12430. Check the website for next year's workshop schedule.