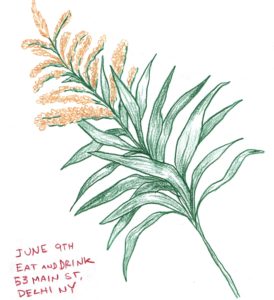 Goldenrod, a seasonal pop-up restaurant focusing on locally sourced food, is opening on June 9th in in Delhi, New York
Goldenrod is the brainchild of Carver Farrell, a native of Bovina, NY, and the former owner of The Pines, a Gowanus, Brooklyn-based restaurant in which he sourced most of his ingredients in the Catskills. Goldenrod will continue in the tradition of The Pines, sourcing the main components of each dish exclusively in Delaware County, and offering local beers, a small wine list, and cocktails built around wild and foraged ingredients.
Upstate Dispatch went downstate and reviewed The Pines almost three years ago. Find that review here. Some of the dishes on that menu at the time were pork shoulder, beef burger sliders, crostini with cranberry ricotta, polenta with roasted Brussels sprouts, kale salad, pheasant soup and a plate of roasted, assorted spuds. They were on their way into winter at that time and Goldenrod's menu will likely be more summer-themed. Nevertheless, everything at The Pines was delicious, so tasty that nobody bothered to photograph any of it and there were five of us. Sometimes, you just have to put the phone down and enjoy.
Farrell will be joined by a team of three seasoned chefs that have worked at some of the finest eateries in the world, including Gramercy Tavern, Daniel, Del Posto, Prune, Le Bernadine, and Union Square Café. The menu will change nightly based on the freshest ingredients available on any given day.
Goldenrod will open on June 9th. Dinner is available Thursdays through Sundays through Fall 2018 with a bar menu available as well.
Goldenrod
53 Main Street, Delhi, NY
Thursdays through Sunday 4:00pm to 10:30pm
Kitchen opens at 5:30
For reservations, contact 607.746.8875 or 607goldenrod@gmail.com