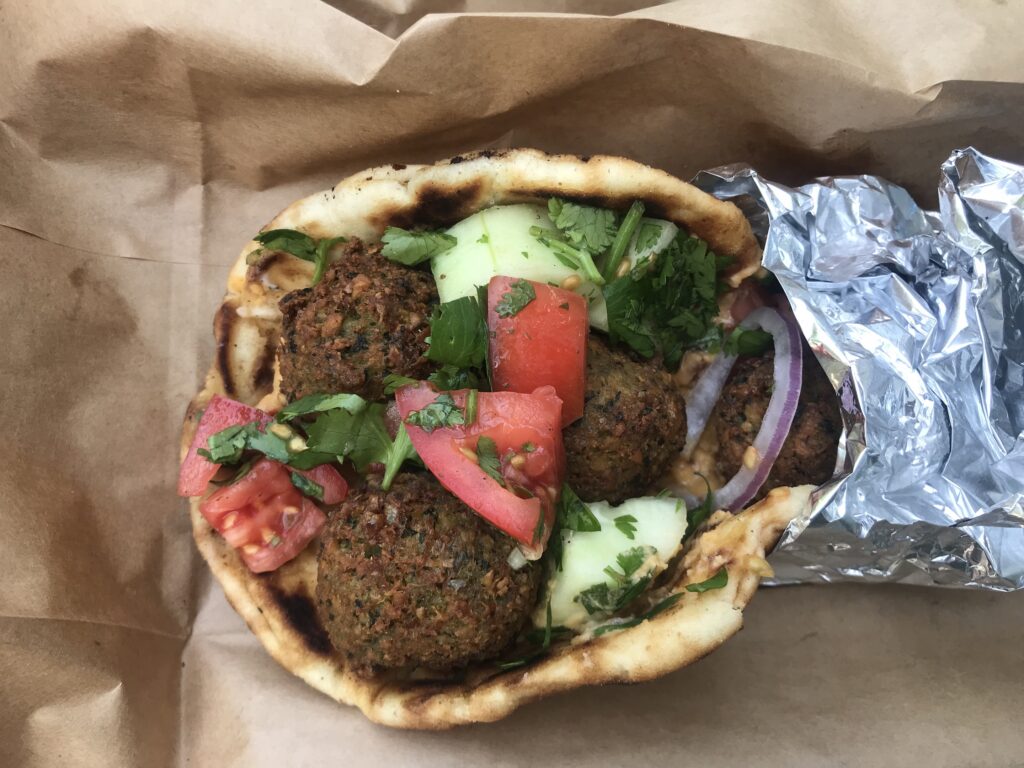 The Catskills' Village of Fleischmanns, has another new restaurant, offering a wide range of delicious and authentic Greek takeout food: Aegean Flavor.
The advantage of opening in Fleischmanns is that there is still a dearth of variety in the Catskills and residents are excited to have novel options. The restaurant opened last week, was immediately successful and busy without any advertising, and the food is exceptional, and reasonably priced. They do the staple lamb and beef gyro in pita bread ($8.95) that is tender, not too oily and not too dry, just perfect. The pita in which most sandwiches come is plump and fresh. Spanakopita, a spinach and cheese turnover in filo pastry, ($4.50 pictured below) is light and tasty, not too salty. For vegetarians, the falafel sandwich ($8.95 pictured above) is superb, stuffed into the pita with crisp cucumber and healthy tomato, all dressed in a lightly spicy sauce. There is also a cheese turnover called tiropita for $4.50.
The desserts are also impressive: there is a sweet custard – encased in a light filo crust, be still my beating heart – called galaktomboureko (pictured below) that is heavenly, and a large portion easily feeding two people is $4.75. Baklava is $3.50, regular iced coffee is $3.95, and Greek coffee is $2.75.
This reporter grew up on traditional Greek and Greek-Cypriot food in London and is delighted to tell you that this is the real deal. I dipped my dolma in the tzatziki and it did not disappoint. In fact, you can get a side of house-made tzatziki, a salted yoghurt and cucumber sauce, for $1.50 and dip all your sandwiches in it.
The restaurant is takeout-only for now, and there are imported grocery items like cheese, cookies and fruit juices. Also available are some solidly American burger/sandwich options for children, or adults unable to live a little. There are four outside tables with chairs in the kind of blue you only see on the Mediterranean, and you can almost feel the sea air on your face at you eat. Fabulous.
Please check their Facebook page for opening times, so we can allow them some flexibility while they are starting up. This week: Wednesday 29th June 2022 to Saturday 2nd July, 2022 12-7pm.
Aegean Flavor: 932 Main Street, Fleischmanns, NY 12430. (518) 339-1451