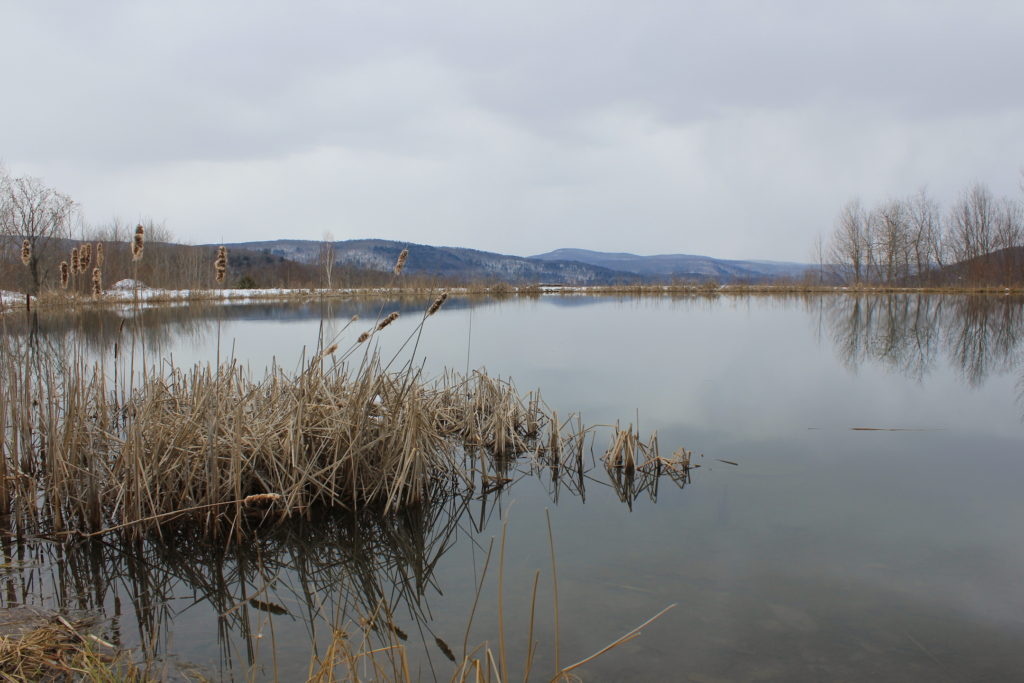 Beat cabin fever this winter. Get outside and and go hiking. Here are the top most exciting or beautiful Catskills Winter Day Hikes, ranging from easy or moderate to very difficult. All require crampons or snow shoes. If you're a novice hiker begin with The Shavertown Trail in Andes. Read our Winter Hiking Tips post before you try winter hiking for the first time. Click on the header links to see a more detailed description of each hike.
This is family hike for all generations with a hemlock forest and long, panoramic views (pictured above). The first mile is the most strenuous, but the rest of it is relatively gentle. There's a pond and a bench on which to rest if it's not too cold.
Bearpen is bearish: a long, winding and slow snowmobile trail with spectacular views into Schoharie Valley at the top. Bearpen used to be a ski mountain and the old machinery still remains hidden in the undergrowth. There's a magical winter wonderland at the top in the dead of winter. Gorgeous.
Belleayre Mountain from Lost Clove Road
This is a spectacular hike. You're coming up the back of Belleayre Ski Center and there are picnic tables at the top where you can eat in front of magnificent views and watch skiers and boarders drop over the edge of the double-black diamonds like stones over a frozen waterfall. This is a long, interesting hike with lots to see. Keep dogs on a leash at the summit to keep them out of the way of descending skiers.
Slide is a long, steep hike for experienced hikers, but absolutely majestic in winter with breathtaking views. There's also access to the rest of the Burroughs Range for the highly-prepared experts.
The trail to the summit of Westkill is an extraordinarily difficult hike with a thigh-busting two-mile uphill struggle from the beginning, but the picturesque drive through the Spruceton valley, the double waterfall at Diamond Notch and Westkill Brewery make this a memorable experience, even if you don't manage to get very far, because there's a great of deal to see, and a tasty beer in a modern setting at the end.