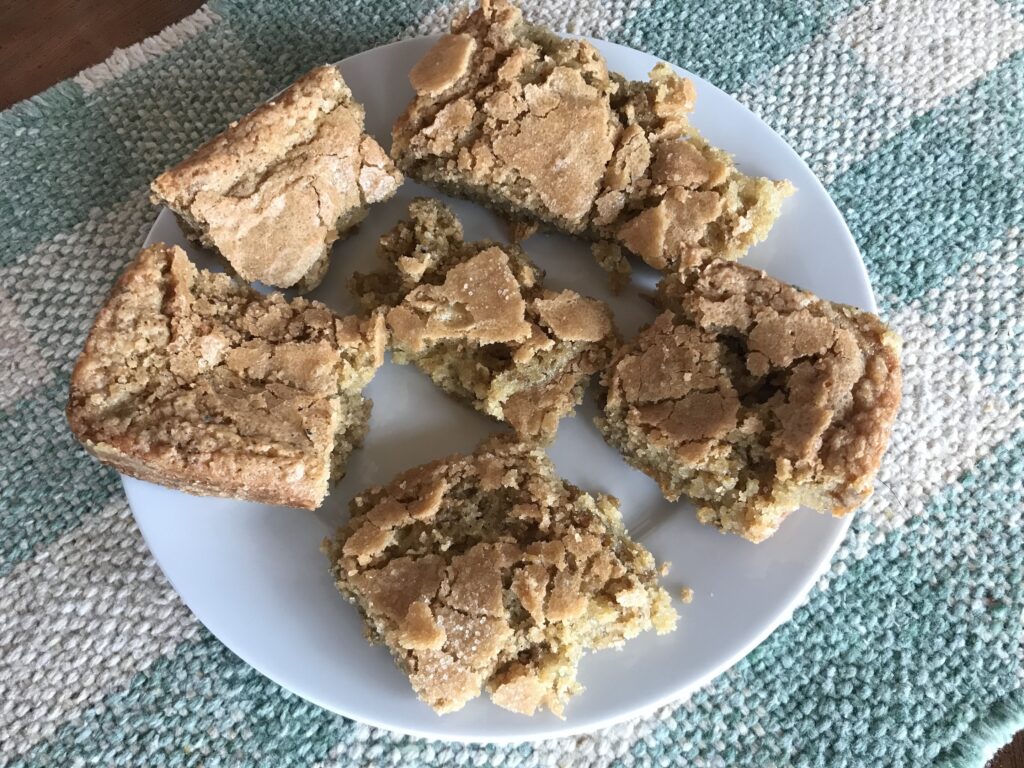 It's that cake again: my go-to cake, the Heritage Apple cake, but this time instead of mixing the stiff batter with two cups of chopped apple, we're mixing in a cup of lemon rind that has been steeped over night in maple syrup, the act of which transforms it into something else. Now it's no longer a cake, but a chewy, lemony, brownie thing. If you like candied peel, you'll like this. Candied peel is a zesty winter snack for people who still remember eating seasonally. Oranges were rare when I was a kid in London and so they were preserved in sugar when they were in season and eaten at Christmas. We used candied peel in our Christmas cake. This brownie reminds me of home.
I was co-incidentally given a cup of lemon that had been soaked in maple syrup to make Tree Juice Lemon Maple Syrup and, now that my only adventure in 2020 has been cooking, I put it in this cake. And by heck, it's gorgeous. Here's the recipe:
The Batter
1 cup AP flour
1 tsp baking powder
1/2 tsp salt
4 oz butter (1 stick)
1 cup sugar
1 tsp vanilla
3/4 tsp almond extract
2 eggs
The Fruit
I cup of lemon rind, chopped and soaked overnight in maple syrup. It's even better if you leave it to crystalize. I left mine in the fridge for over a week.
How to Cook
It takes a little time to get your brownies the way you want them, but it's better to undercook them than to overcook, which makes them too hard, if you want them chewy. Soften the butter and whip it together with the sugar, vanilla, almond extract. Add the two eggs and beat them in. Mix the whole mixture well. Sift the flour and baking powder and add it into the butter/sugar mix gradually. Mix until you have a batter. The batter will be very stiff. Once you have a smooth batter, stir in the lemons/maple syrup and disperse it in the batter. Sprinkle the top with a thin layer of sugar. Add to a square (9×9), greased loaf tin and bake on 350 for between 20 to 30 minutes. You can take the cake out of the oven and check it at 20 minutes, let it deflate a little, then put it back in for 5 to 10 minutes. This will make it chewy with a crunchy top.