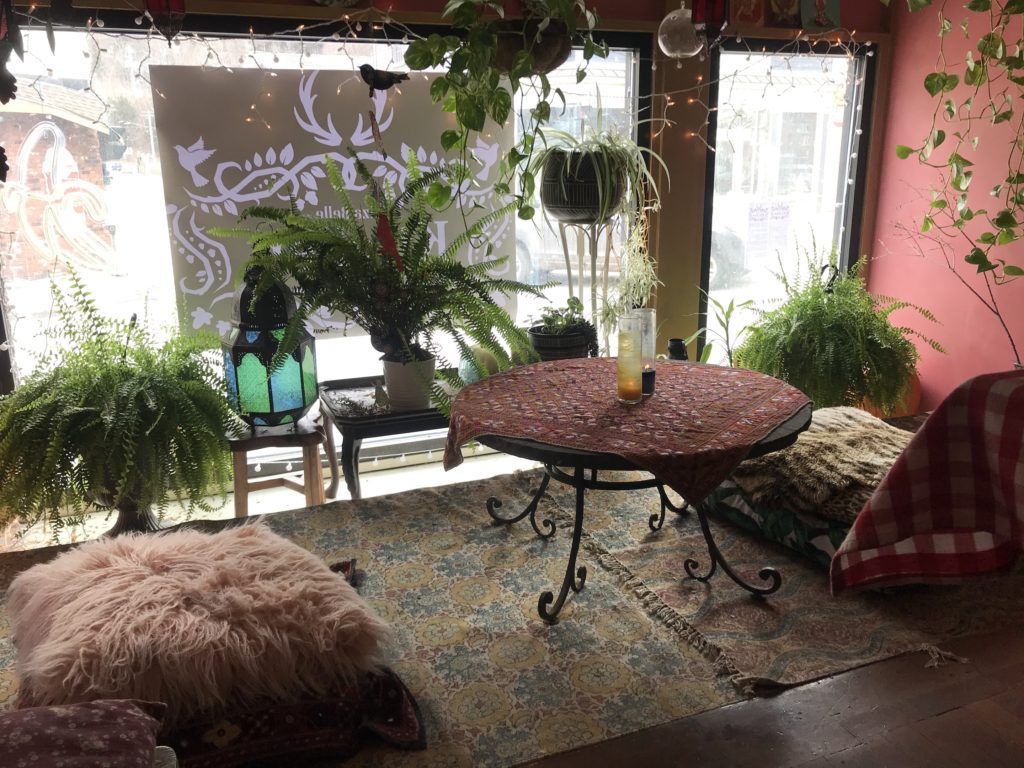 It's not often you find yourself, all windswept by the frigid mountain air, sitting cross-legged in your rubber boots in the cozy window nook of a homestyle restaurant listening to the soothing sounds of a sitar. The only thing to do when you unexpectedly find yourself in that situation, after having only gone out to buy soap, is to lean in, kick back and order the curry lovingly handmade by Liza Belle, that is robust enough to keep your warm until dinner.
Last time we met, Liza baked a mass of rich, sweet sticky toffee pudding in her kitchen at home, narrating the recipe as she cooked. This time, it was a delicious Thai green coconut curry with jackfruit: perfect to stave off the winter blues. Jackfruit, packed with nutrients and protein, is often used in stews as a meat replacement due to its fibrous texture – it makes a great vegan pulled pork – but it's sweet and fruity, blending well in this curry with potatoes and string beans. The fragrant jasmine rice was perfectly cooked. A nice bonus was the lightening, cooling effect of the starfruit garnish. This was a proper curry, not for those with weak taste buds. Brace yourself for the full flavors and strong spices.
Also on offer was a dal, a thick lentil soup with braised kale.
Liza's new venture, simply named her "Kitchen" is in the former pizzeria in Margaretville's Commons Building serves a limited but solid set of tasty dishes. Every day one meat dish, one soup, one vegan or vegetarian dish, two breakfasts, one salad and one "compost plate" that is like a Buddha bowl with vegetables, salad and rice or bread. The dining room is warm and inviting, a dimly-lit lounge and richly colored – designed to relax the customer with local artwork adorning the walls. It has an ancestors' table with photographs of Liza's British relatives and, don't you know, PG Tips is on on the beverage list along with iced Vietnamese coffee, matcha latte, golden milk, hibiscus rose tea, caffeine-free chai and chamomile, lemon balm and lavender tea.