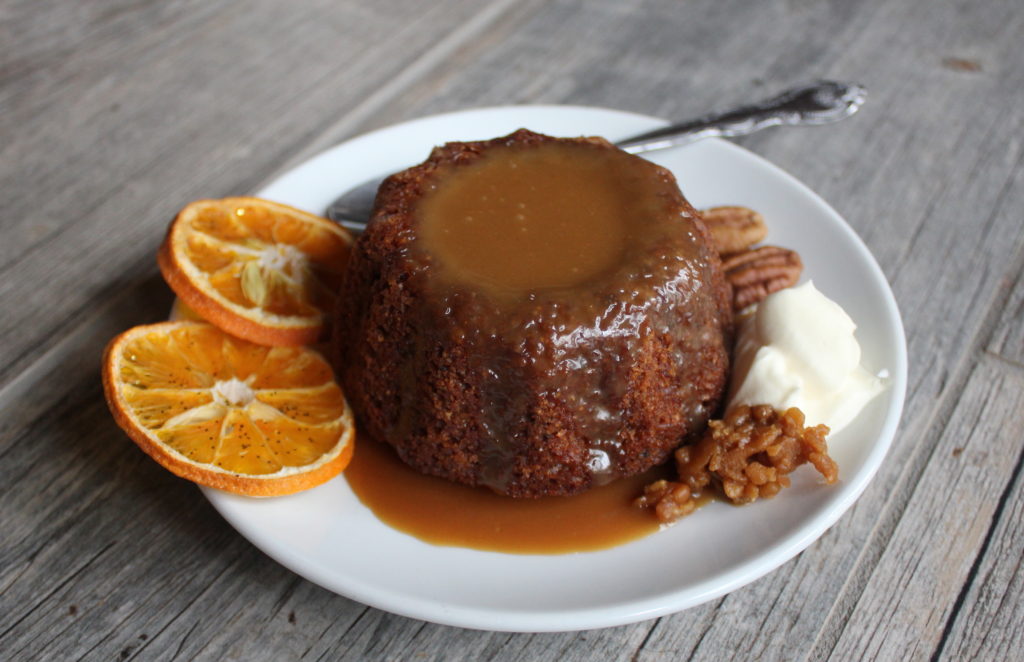 The Catskills are home to many great chefs, one of those being Liza Belle, chef at the Blue Deer Center in New Kingston, Upstate New York. A native New Yorker from Long Island, whose mother was an English immigrant, Liza Belle got her start as a short-order cook and found a mentor early on who revolutionized her perspective on food. A prolific baker, especially during this holiday season, Liza shares a Christmas recipe, an English favorite: Sticky Toffee Pudding made with dates and locally-grown wheat that we cooked yesterday. When the cake came out of the oven, it glistened with the sticky dates. The local grain gave it a reddish, grainy finish. Some tips: when you "toast" butter in a milk pan, swirl it around and save the brown, caramelized part that sticks to the pan because it gives the sauce a nutty flavor.
Today is the first day of Yuletide, a 12-day winter fire festival starting today – on the shortest day of the year, December 21st, the winter solstice – with origins in Northern Europe that pre-date Christianity. (This is where the saying "12 Days of Christmas" originated). Most settlers of the northern hemisphere, a dark place that's frigid this time of year, have always celebrated fire at the start of the winter season and share food and stories with friends and neighbors. Find The Guardian's version of the traditional Yule log cake here.
Sticky Toffee Pudding
Cake
1/2 Stick of Butter
1 1/2 Cups of Flour
1 1/2 Cups of Chopped Dates
1 teaspoon Baking Soda
1 Teaspoon of Baking Powder
1/2 Teaspoon of Sea Salt
1 Cup of Brown Sugar
1 Teaspoon of Vanilla runneth over
2 Eggs
Sauce

1 1/4 Cup Brown Sugar
1/2 Cup Heavy Cream
1/2 Stick Butter
1 Teaspoon Brandy
1/2 Teaspoon Vanilla
Serve with Whipped Cream
Cake
Preheat oven to 350 degrees. Butter and flour bundt pans. Bring dates and 1 1/4 cup of water to a boil. Remove from heat, add baking soda. Set aside, cool. Sieve 1 1/2 cups of flour, baking powder, and salt. Beat 1/4 cup butter, sugar and vanilla. Add egg, beat to blend. Add 1/2 flour mix and 1/2 date mix. Beat to blend. Repeat with remaining egg/flour mix and dates. Pour into pan. Bake for 40-45 minutes.
Sauce
Melt Butter in a pan, slowly swirling until the butter browns slightly and starts to smell nutty. Try and keep the browned butter that sticks to the bottom of the pan. In a separate pan, slowly melt the brown sugar until it becomes like a thick caramel. Blend the sugar and melted butter together, quickly stirring. Add brandy and heavy cream while stirring vigorously.