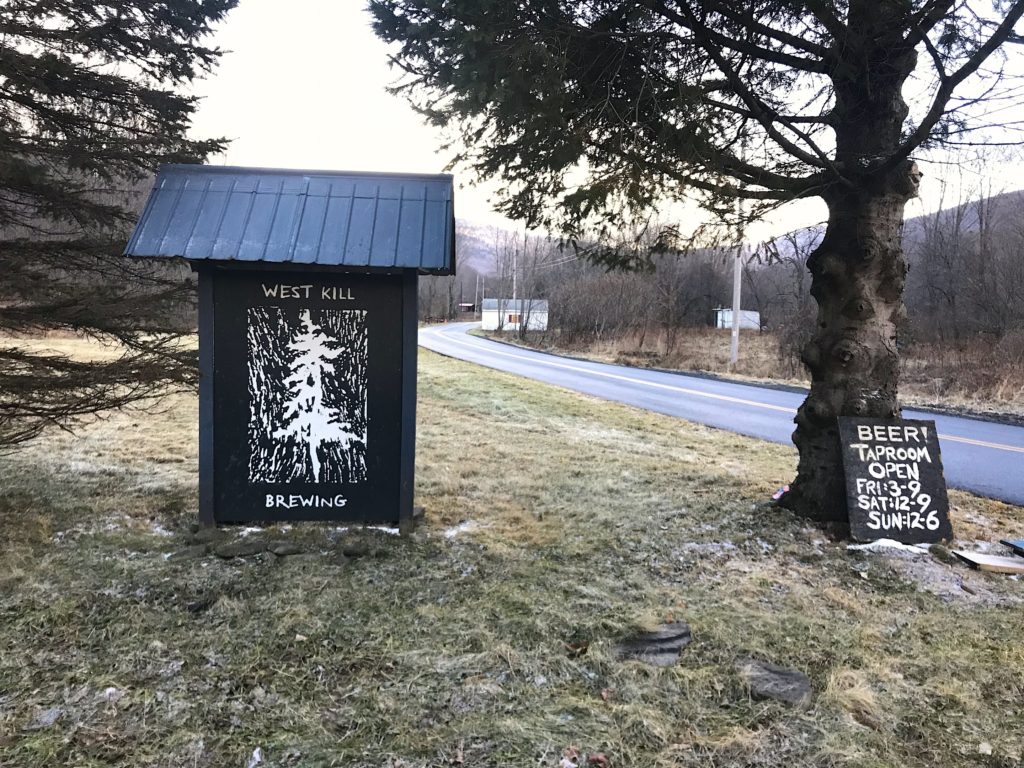 Nestled in the foothills of the Catskills' Hunter-West Kill Mountain Wilderness, almost at the end of a dead-end road leading to some the region's most popular trails, is West Kill Brewing, with its small tap room, that's been open for about a year. The standout beer is the fruitiest IPA for miles around, Moon Farmer IPA, but most of the beers here have some sort of unique berry, fruit, herb, pine or citrus combination in them and some of them are brewed with honey from West Kill Brewing's hives. There's even a basil IPA and a Belgian made with spruce tips. The beers here are not your regular run-of-the-mill offerings, they are mindfully made. Much thought has clearly gone into the recipes that incorporate a variety of the local flora. Maybe it was the strenuous hike to Rusk Mountain that influenced my tastebuds, but I was so surprised when I took a first gulp of Moon Farmer that I went straight to the counter to order a four-pack to take out. I don't even like IPA.
There are also some deeply rich and creamy porters, one of which is made with the local Fruition chocolate. Plus, there's a sweet porter made with maple syrup. Beers are subject to availability on the day, but there's 23 brews here in five categories: hoppy, Belgian, light/crisp, dark/malty or barrel-aged. There's something for everyone. If you're looking for a decent American pilsner, try the Doodlebug.
Most important: this place is dog-friendly with a roaring fire (inside and out), and there's nowhere a hiking dog would rather be than by a fire after a strenuous Catskills hike.
West Kill Mountain, one of the most difficult hikes you'll find at the end of this dead-end road, begins with two miles of uphill struggle. It's rocky and steep, so one of these beers is an essential, sweet reward for the intrepid mountaineer. Other hikes found at the end of the road are: St Anne's Peak, Diamond Notch, Hunter, Southwest Hunter, Rusk, East Rusk. Last but not least, the intimidatingly-named Devil's Path starts here and takes the hiker eastwards right across the Catskills to the Indian Head Wilderness and beyond. If you're on the Devil's Path, you'd surely better have a beer.
Read our reviews of all the hikes on this post: Hunter, West Kill, Rusk and Southwest Hunter.
West Kill Brewing, 2173 Spruceton Rd West Kill, NY 12492. Tap Room Hours: Friday 3-9pm, Saturday 12-9pm, Sunday 12pm-6pm.