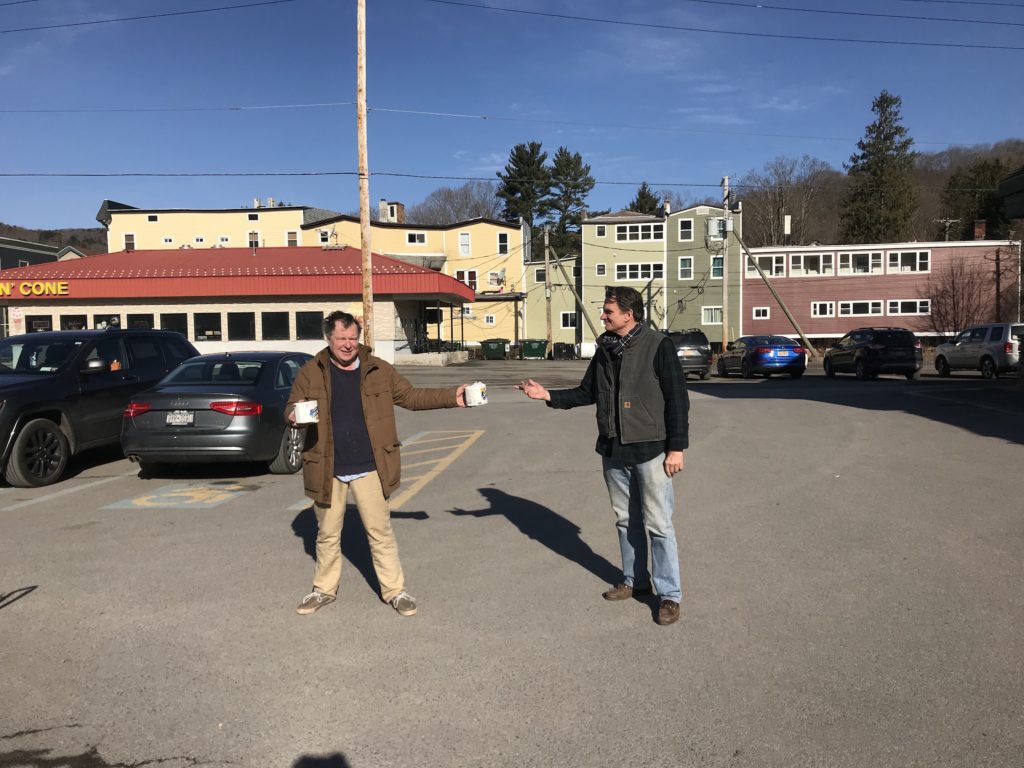 Here in the Catskills a high percentage of the population are seniors and retirees, so the community is taking social distancing and self-quarantine very seriously. Gatherings, even of small groups like book clubs and language classes, have been cancelled, but we still need to support local businesses to keep them up and running. There has been much laughing over why there is no toilet paper. Why is toilet paper a rarity but fine Belgian beer and fabulous chocolate freely available in bulk? Strange. Perhaps because there are no leaves on the trees yet?
The Freshtown parking lot has become a place where people can exchange personal news with neighbors and friends and where those isolating alone can come and talk to someone at a safe distance. Lack of social contact is real. Hugging is now socially unacceptable – ! – just at the very time we need it most, but we are all in this together and so the sense of community is strong. In a sense, upstate life has prepared us for this very event and here's an opportunity to realize what's truly important in life and that's love. And beer, and art, but mostly love.
On Monday, bars and restaurants were ordered to be closed, but local restaurants are still operating for takeout and delivery. A new local website Sis Boom Yum will tell you how to eat out without eating out. "Originally a travel site with a focus on food & drink, this site is now committed to keeping people informed and businesses open. Eat. Drink. Support. These business are ready to serve you in this new reality".
Catskills Regional Harvest in Delhi is taking deliveries of local produce today. It's open from 10am – 4pm until this Sunday 22nd March, 2020. Go here to find out more.
Two Stones Farm in Fleischmanns is well-stocked with locally-made goods.
If you're foraging for food, morel (mushroom) season is almost upon us. The Outside Institute is offering free nature walks for the next week and they are filling up quickly. Walk your land and look out for nettle, mallow, cress, field garlic, garlic mustard and dock. Most important: the highly invasive and destructive Japanese knotweed will shortly be emerging and the young shoots are edible. However, you should steer clear of knotweed that has been doused heavily in pesticides in past years. More information about foraging with be forthcoming on this site in coming weeks.
I will be on the radio next Monday: WIOX from 10pm to midnight with Peter Mayer. We will be discussing what's been happening, food, foraging, the economy, and local news.
I wish you all strength, fortitude and a lot of love.
J.N. Urbanski
Update: Customers are asked not to stockpile items so that everybody can get what they need. Only take what you need from the store and come back frequently. Stores will remain open to serve customers.