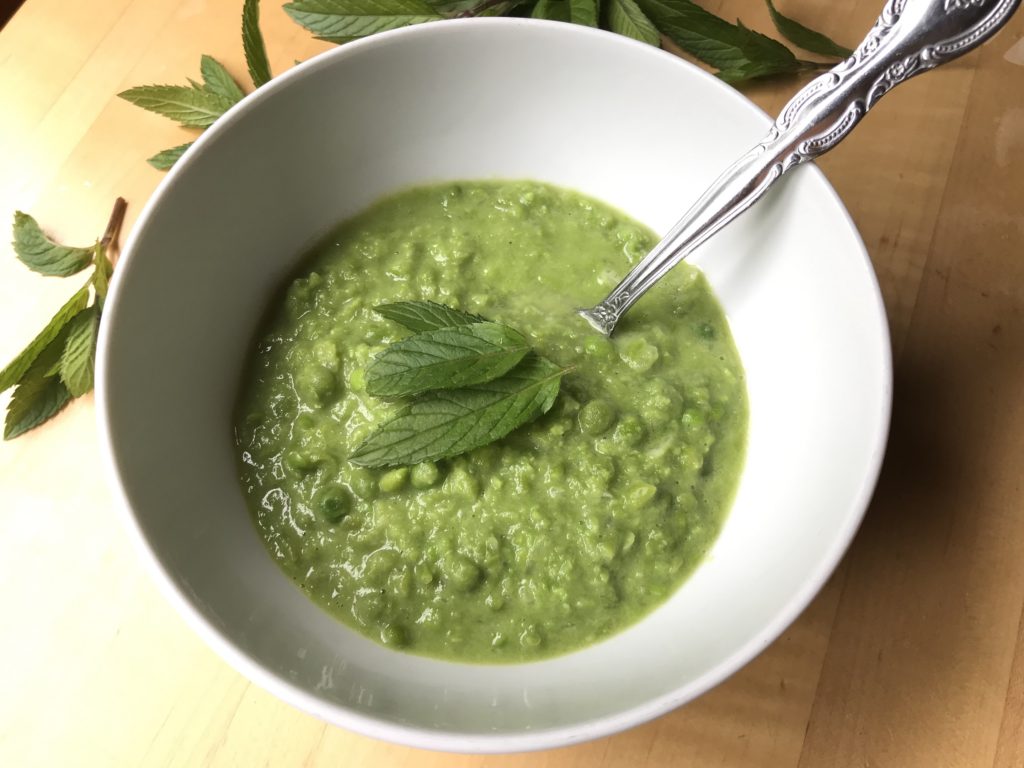 The wild mint is out in force with the wild flowers, but we must wait longer for the peas or find them in the freezer. There's something about pea and mint soup that screams summer. This is a family recipe, but there's really nothing to it. Fry up some onions, garlic and thyme in oil or butter, add stock, boil until warm then add peas and mint. Simmer for only a minute, then blend with a hand blender. If you love the taste and texture of fresh peas, use frozen peas and put them in the stock straight from the freezer. They will thaw, but not cook all the way. Only blend half the soup and add a knob of butter in each bowl of soup when you serve it to get the taste of buttered peas with a little crunch of sweet pea. You can also garnish with a dash of balsamic vinegar if you're not into the butter and want to add a tangy element. If you're going to go with the balsamic option for the first time, put the balsamic vinegar on the side, dip toasted or warm bread in the vinegar, and dip the vinegar toast in the soup.
Pea & Mint Soup
Half an onion
Two tablespoons of oil
One tablespoon of minced garlic
One tablespoon of dried thyme
One liter of chicken broth, or non-chicken vegetarian broth
One pound of frozen peas
Ten leaves of fresh mint, or more depending on how minty you want it
Butter to garnish
Finely chop the onion and fry it with the garlic and thyme in the oil until lightly brown. Add stock and bring to the boil. Add the peas and simmer for a minute only. Add the mint. Blend with the hand blender, but only blend half the soup. Stir the soup with a spoon. Garnish with butter or a dash of balsamic vinegar. You can make the soup as minty as you like it. Start with less mint first, because you can add it, but can't take it away once you've blended it in. If you want to add more mint after you've served it, just pop in a few more leaves into the saucepan, stir the soup and then remove the leaves. Fresh mint will always leave a lot of mint oil behind, so you don't necessarily need the leaves in there. You'll notice that there's no salt in this recipe because there's enough salt in the broth and, if you over-salt, it clashes with the mint.