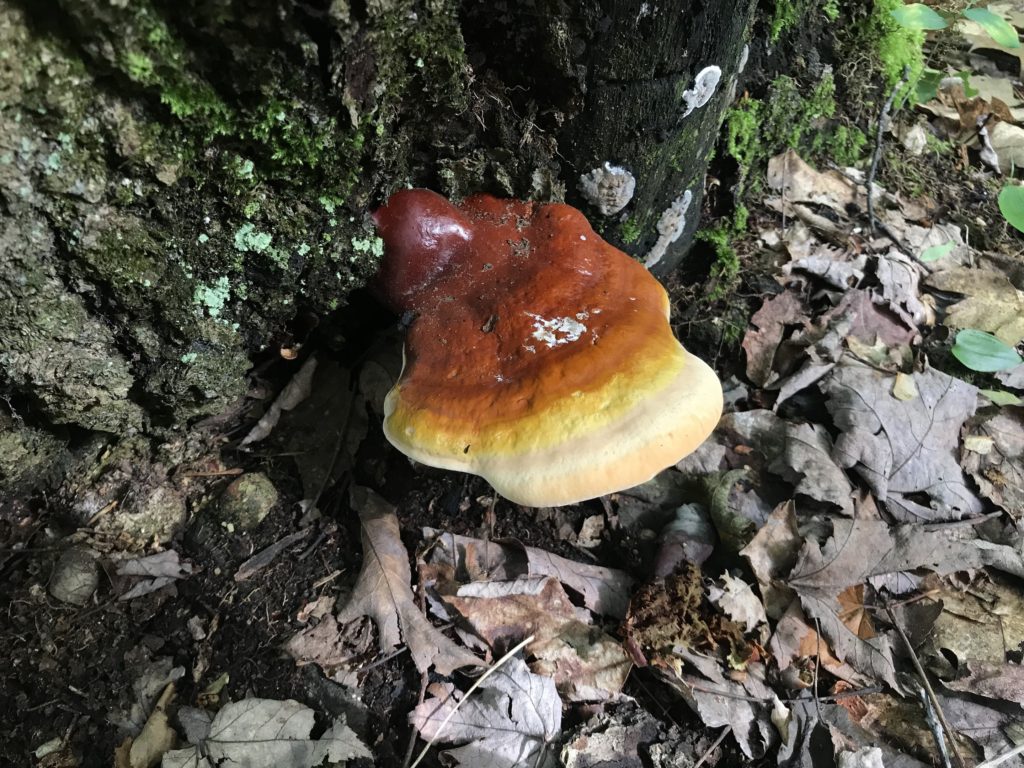 Ganoderma Tsugae or Lacquered Polypore, has many names, but the most popular one is Reishi and it's out in the Catskills now, mid-June, although it does appear from Spring through Fall. It is sometimes found in Winter months too, but here at the higher elevations, it's both literally and figuratively at its peak. Other names for it are Varnished Polypore and Hemlock Varnished Shelf. Reishi grows on hemlocks in particular, or can also be found on other coniferous wood. The surface under its cap has pores, not gills, so it is spongy to the touch and, in fresh samples, off-white in color.
It grows directly from dead or living trees or roots of removed trees. The specimen above was growing on a logged tree stump and is the size of a hand, but they can grow much bigger. It causes white rot, acting as both parasite and decomposer.
For millennia, Reishi has been used for medicinal purposes in China. It's reportedly an immune booster. It's usually peeled and sliced and simmered in boiling water, with the water drunk as tea, but it tastes hideous. Another form of Reishi (Ganoderma Lucidum) is widely available in health stores as a powder to put in a hot beverage, or hot water, or in pill form.
Here in the Catskills, I know more than one person who claims mushroom supplements have stopped their allergy symptoms.
To store Reishi, put it in a paper bag in the fridge. You can preserve mushrooms by drying them. To do this, slice the mushrooms and arrange them flat on a baking tray. Put them in the oven on the lowest setting (170F) for two to three hours, until they're fully dried, or buy a dehydrator.