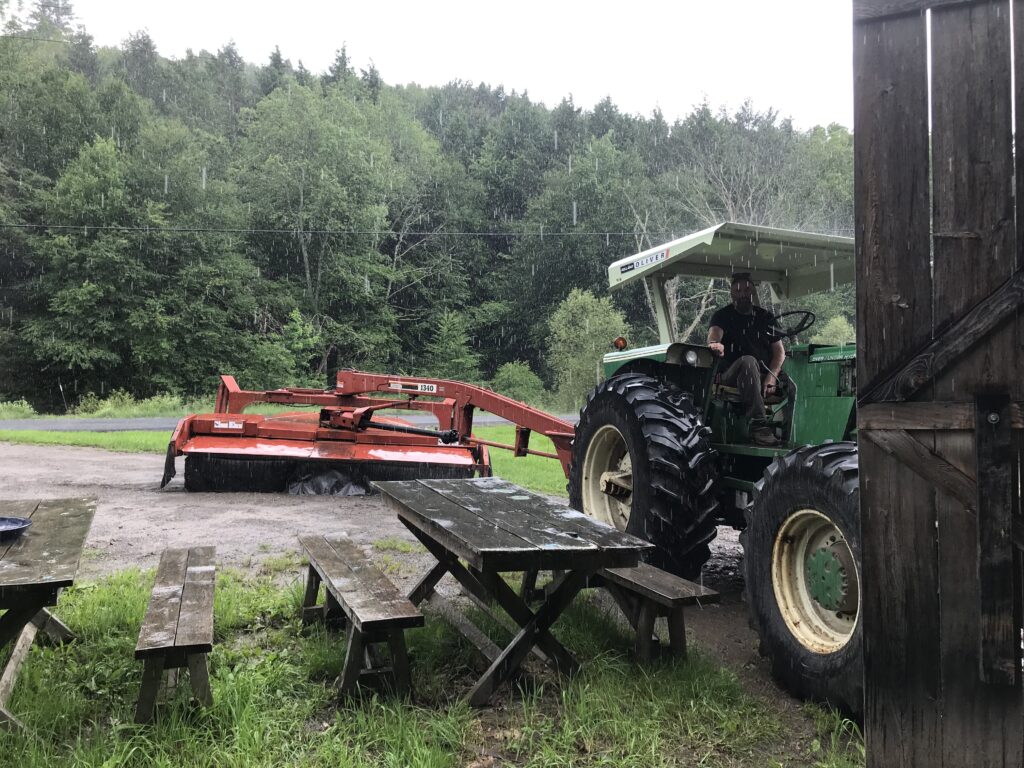 The year 1992 was dubbed by The Queen of England to be her Annus Horribilis – a common Latin term for horrible year – after parts of Windsor castle burned down along with some of its priceless historical artifacts.
This year is farmer Jake Fairbairn's Annus Hay-ribilis, an extraordinarily bad hay season, the worst in his entire decades-long career on the farm, due to this summer's incessant rain. Nobody's going to get that reference, Jake told me, but I just couldn't think of another hay pun.
I didn't think the reference was that well-known until along came The Crown on Netflix, which I stopped watching after Season 2. Being a Londoner, I had watched the real thing play out in British newspapers growing up and that was enough for me. No Brit who was old enough in 1992 can forget the images of the sour-faced Queen picking through the castle wreckage in her Welly boots and headscarf, tutting over charred objects that had been once admired by the likes of Henry VIII.
To farm hay, the farmer needs at least three rain-free days in June to mow and bale a "first cutting" of hay, preferably also very sunny and hot, to give the downed hay a chance to dry off. The grass grows back in about a month, and a "second cutting" is mowed in late Summer. June's torrential rain came hard on the heels of May's drought that had browned the already slowly-growing grass. There was never a whole three days without rain. Jake spent a lot of time frowning at the weather forecast and muttering some existential questions about chance and luck.
I mean: 50/50 is an even chance, I would respond. There's a 50/50 chance of anything happening, surely? Every down tick in the percentage chance of rain forecast ushered in more philosophical questions. To mow or not to mow? That was the question and just as fraught and no less dramatic than Hamlet's original. (I'm sorry about all these English references.) Jake would spend a lot of time over the summer staring out the window and across the hills, as if the horizon might signal what was in store.
And, let's not forget, we had that other other-worldly experience of being enveloped by the thick, orange smoke from Canadian wildfires for two or three days at the beginning of June, which brought back fears of the apocalypse not anticipated of since the darkest depths of the pandemic.
No sooner did Jake decide today was the day, get on his tractor and start the engine, then the heavens opened. July 4th was memorable for it's torrential downpours.
Finally, Jake was able to mow his first bales of dry hay on July 17th, a month and a half late, in which he made 44 bales of dry hay, which contains 15-16% moisture. On 25th July, it rained on the second day and so he made 91 bales of what farmers call "baleage", which is hay tightly wrapped in white plastic that causes it to ferment. This type of hay is more forgiving because the moisture content for baleage is between 30-70%. The resulting fermented hay is like candy to cows, but it's a cheaper product yielding less profit. Then finally, on August 2nd, Jake made another 159 bales of dry hay and has now hayed a total of 30 acres. In comparison, the previous year (2022) Jake had finished first cutting in June having made 650 bales from 58 acres.
A fourth window appeared on Sunday and has held up this week: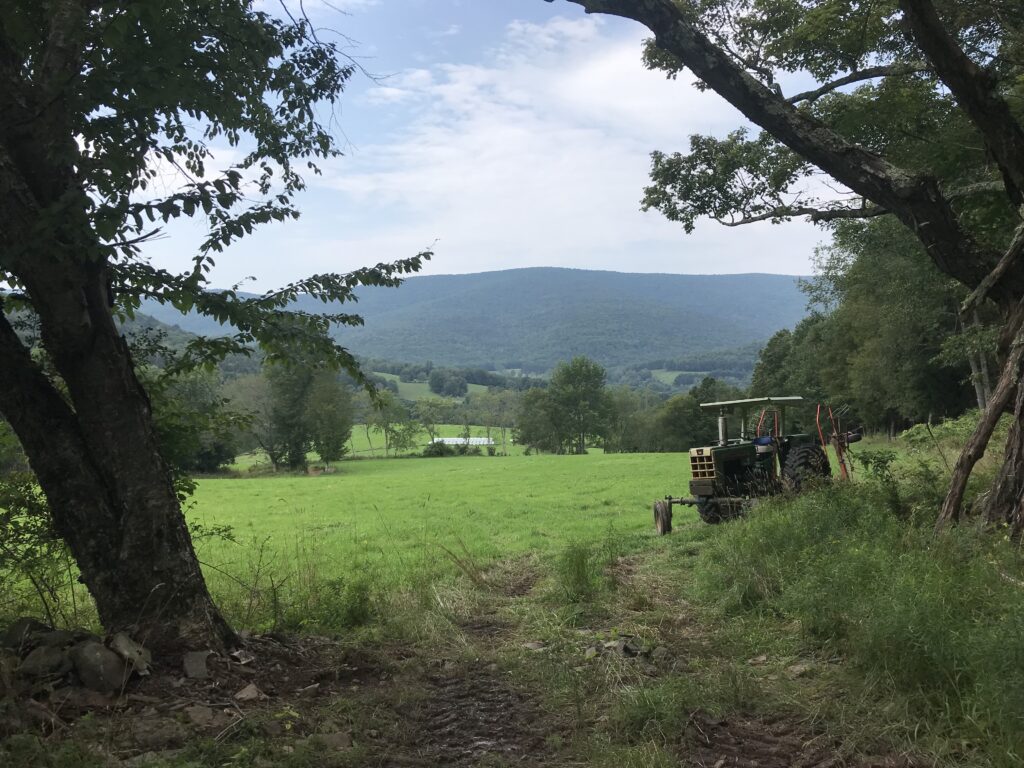 Jake mowed 18 acres of the remainder of first cutting on Sunday August 20th, 2023 (yesterday). Then he spend Monday going over the hay with a "tedder" which fluffs up the hay, allowing it to dry quicker. Today – Day 3 Tuesday – Jake's morning was spent doing more tedding and this afternoon, he baled the day. This week, then, has been his fourth window for first cutting.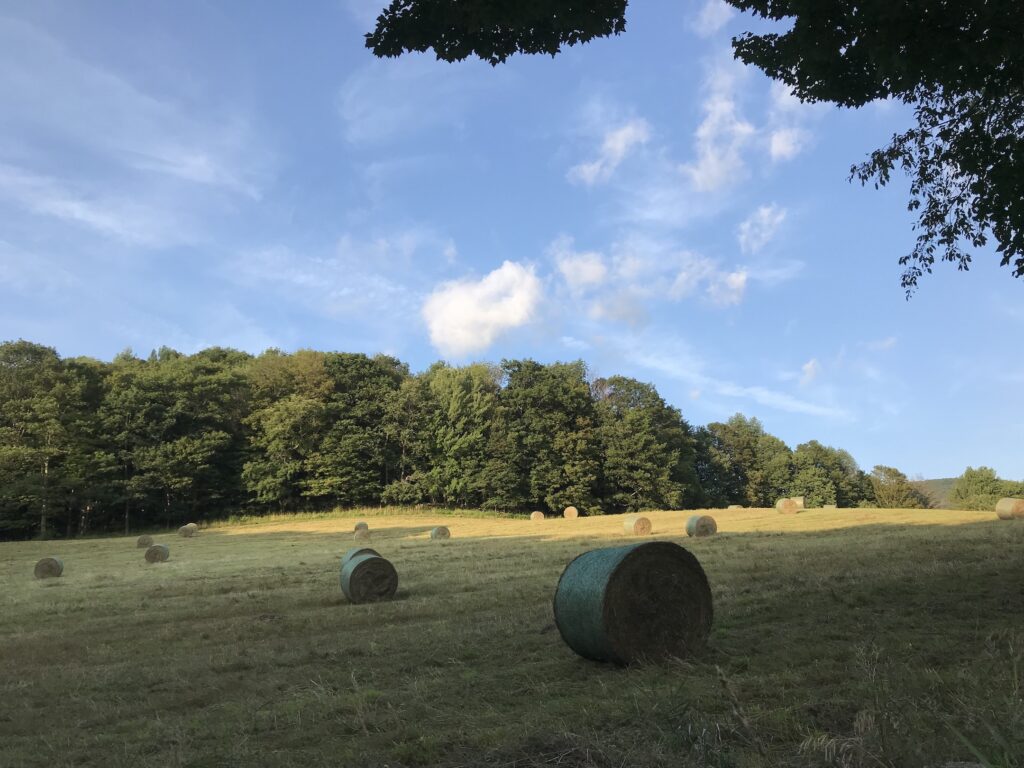 You may be wondering why farmers would choose to make hay given that the Catskills is such a wet environment? These mountains are thickly threaded with the green veins and arteries of flowing rivers, large and small. They're covered with dense, lush forage that feels like rain forest. Hay is a high-risk enterprise, but necessary here because the livestock has to eat in winter, and in the Catskills, winter is often six months long. Who said it was relaxing upstate?
For more summer images and movies, visit the new farm Instagram account: Lazy Crazy Acres.