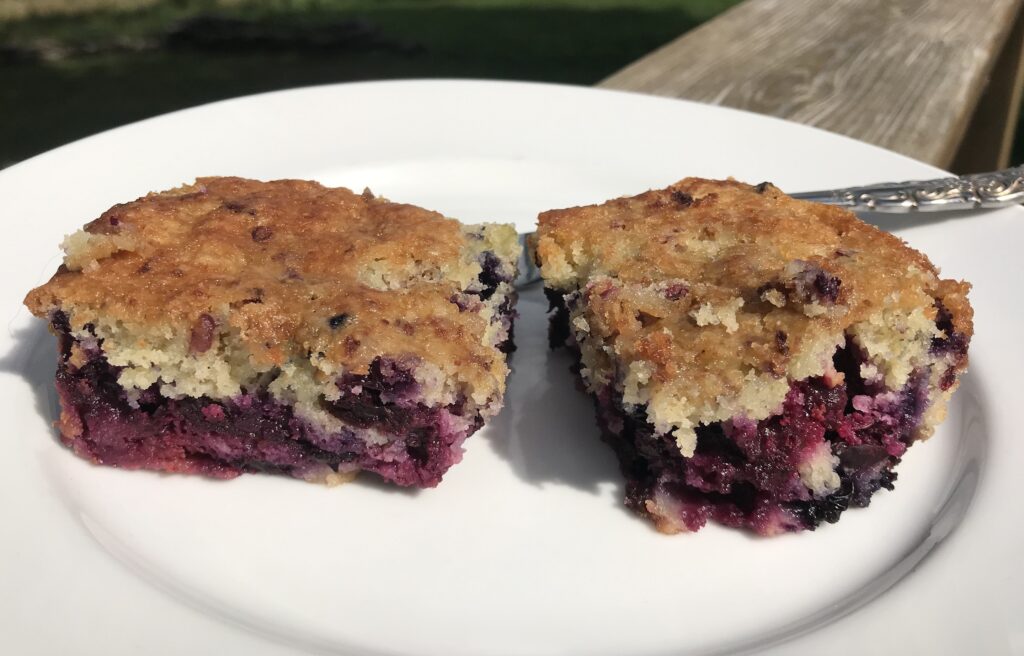 We had an extraordinary year for apples in 2017 and one of the guests on my radio show at the time gave me a fabulous recipe for a Heritage Apple Fruit Cake that is my one go-to cake. This is turning out to be a poor year for apples on our farm, so I'm using blueberries because I have so many of them. I've also modified this recipe even further because I like my cake really moist, chewy and fruity, so I bake it in a flatter pan, for less time and I'm using an extra half-cup of fruit. The special thing about this cake is that all the fruit sinks to the bottom and you get half-fruit, half-cake pudding with a slightly crispy topping that is really delicious. Needless to say, if you need to have your cake thoroughly cooked all the way through extend your cooking time to 40 minutes.
Fruit Cake
1 cup AP flour
1 tsp baking powder
1/2 tsp salt
4 oz butter (1 stick)
1 cup sugar, plus one tablespoon for sprinkling
1 tsp vanilla
3/4 tsp almond extract
2 eggs
2.5 cups blueberries
Soften the butter and whip it together with the sugar, vanilla, almond extract. Add the two eggs and beat them in. Mix the whole mixture well. Sift the flour and baking powder and add it into the butter/sugar mix gradually. Mix until you have a batter. The batter will be very stiff. Once you have a smooth batter, gently fold the blueberries into the batter but do so very gently – trying not to smash the fruit. You will end up smashing the fruit, but just try not to. Put the mixture into a square, flat, greased cake tin (9x9x2 inches). Flatten it into the pan gently and sprinkle the top with a tablespoon of sugar. Bake on 350 degrees for 30 minutes. (Or if you need your batter thoroughly cooked all the way through, do 40 minutes).