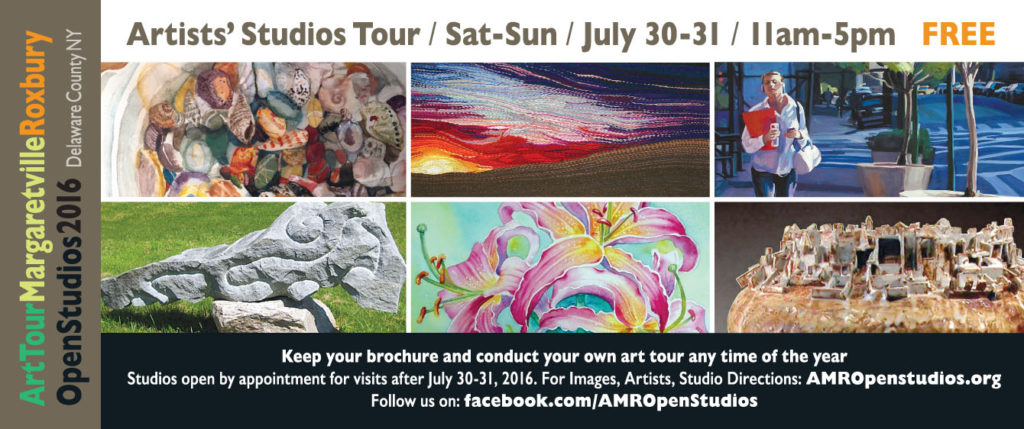 On the weekend of July 30th and 31st, 16 upstate artists will throw open their doors to the public, so that you can take a peek behind the scenes at what goes on in an artist's studio. 20 artists are taking part in the tour, but four of us are without a studio. We'll be showing in the Grange Hub in Halcotsville opposite the old Lake Wawaka Hose #1, a few steps downhill from the Holy Innocents' Church. Artists are en route throughout the countryside between the villages of Arkville, Margaretville and Roxbury.
The project is the brainchild of local Catskills artist Alix Travis, who was inspired to start the tour after having done similar tours herself in other communities. Studio tours are a glimpse behind the scenes to explore methods and process, swap notes and absorb the creative atmosphere. What's special about art is that identical processes can result in wildly differing effects when they're employed by different artists and that's fun to watch for everyone. What's a good process for one artist isn't necessarily good for other artists, but it's fun to push the envelope and experiment.
A full list of the artists are Lisbeth Firmin, Tabitha Gilmore-Barnes, Ken Hiratsuka, Frank Manzo, Helene K. Manzo, Anthony Margiotta, Amy Masters, Gary Mead, Alan Powell, Lesley Powell, John Sanders, Ted Sheridan, Alix Travis, Gerda Van Leeuwen, Ellen Wong, Peter Yamaoka. Four of the artists are without a studio and so are exhibiting at the Halcottsville Grange Hub. We are Robert Axelrod, Oneida Hammond, Sophie Maduri and J.N. Urbanski.
Interested visitors can plan their tour by going to the website and printing out the map. You can also visit the Facebook page here. Glossy, color pamphlets with all the details are also widely available locally at The MARK Project, The Erpf Gallery, Arkville Bread Breakfast, Catskill Recreation Center, Home Goods of Margaretville, Qualtere's, Migliorelli's Farm Stand, Margaretville Liquor Store, Roxbury General, Roxbury Wines & Spirits, Roxbury Arts Group, Catskill Candies, Pakatakan Farmer's Market, The Tinderbox, The Emerson, and many more in the area.