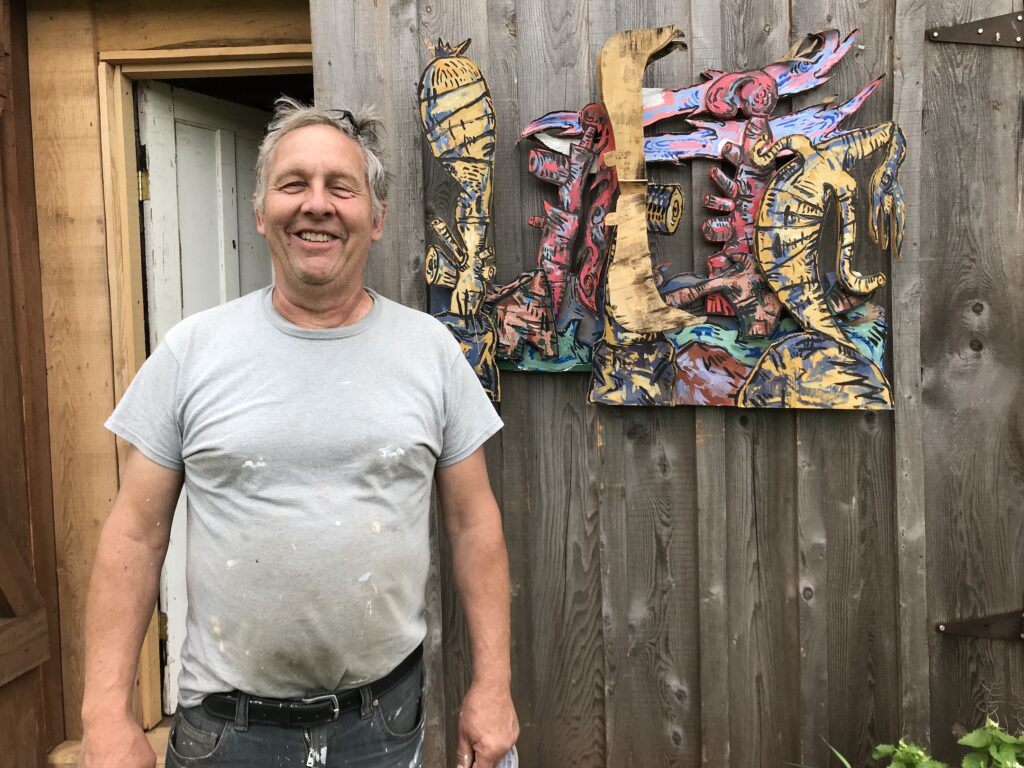 "Are you coming to the drawing tonight?" Gary Mayer asks me. I'm honored to be part of a Catskills figure drawing group with local artists such as Steve Burnett, Gary, Peter Mayer, and Sandy Finkenberg.
"No," I say. "I'm going to a potluck dinner".
"Well, you won't find potluck in here," he says as he steps up into his studio. "More like shit out of luck," he laughs, highlighting a disparity between the lightness of his personality and the intensity of his work. He's quick to laugh, good company and chatty, but this magnanimity belies the intensity of his imagery. "I have a wild imagination," he frowns, nodding gravely. "I didn't sleep a lot as a kid". We have something in common. "Me, too," I say. It's a little exhausting. But I'm keen to keep him laughing because all the profile pictures I see of him make him look flummoxed, for want of a better word.
His general demeanor is nonchalance, however, like his image: hey, look at this shit I did. I don't get it either. *Shrugs* The ad for his new gallery in Margaretville named Art Up is photo of a handwritten note, for example. I get the sense that his reward comes from expressing himself, while painting, rather than the final work being appreciated.
Gary Mayer's studio is a large barn, in the middle of a vast, lonely Catskills valley, newly swathed in its summer green, like Gary, who has been selling a lot of work lately and gaining a lot of attention. Stepping into his studio from a panoramic backdrop of mountains, hazy with humidity like a veil of thin whitewash, is like going through a wormhole and ending up in a New York City loft in the nineties. "Oh, this is your apartment," I say absentmindedly, as I ferret around in the back rooms, suddenly having being transported decades back in time to my life in New York City, which confuses him. "Apartment? What?"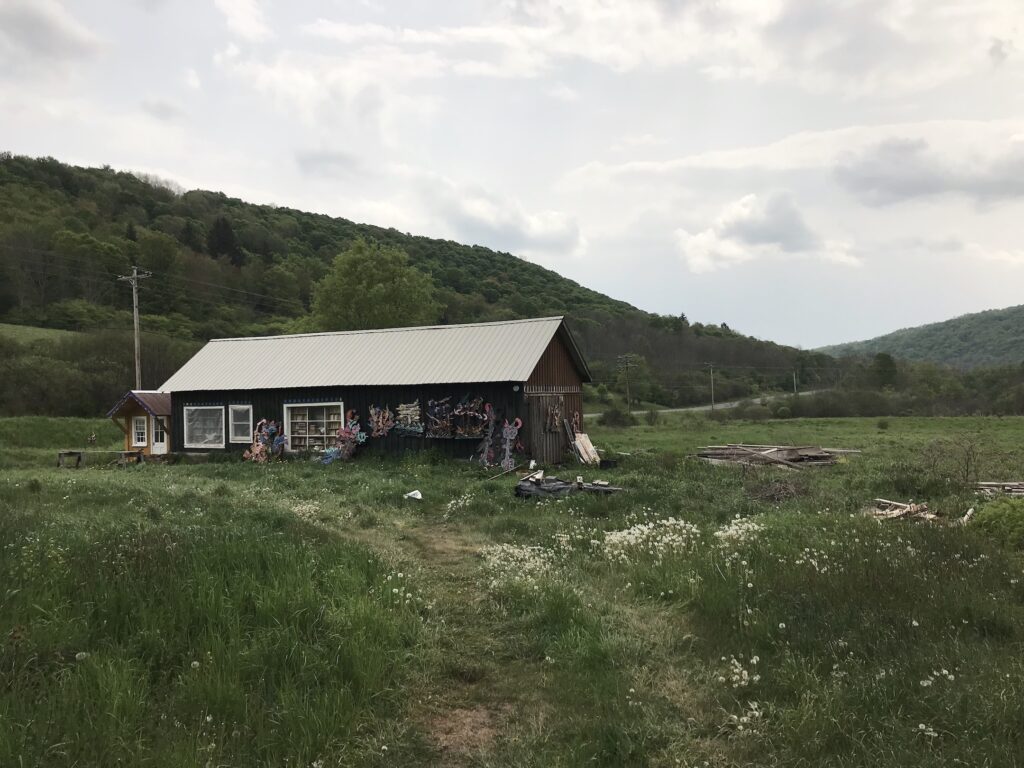 It is a large barn on one floor with three rooms in which decades of art is amassed, stored on shelves, in alcoves, hanging on the walls and hung outside.
"You've got a lot of work here." I say. "Are you going to put it in your new gallery?"
"No I'm not. But yeah, I have tonnes of work."
Me: "so how are you going to…?"
"Am I going to have a bonfire when I die?" He laughs. "Is that what you mean?"
We laugh about this, but I'm actually still laughing at the potluck joke, so I'm crying at this point.
"I dunno," he says. "It's not logical," talking about the amount of work he has accrued. "It's just what you do".
Mayer is an avid reader with an extensive library and one of his paintings (below) is inspired by the book Blood Meridian by Cormac McCarthy. Unlike Gary, I have not been able to finish any of McCarthy's novels.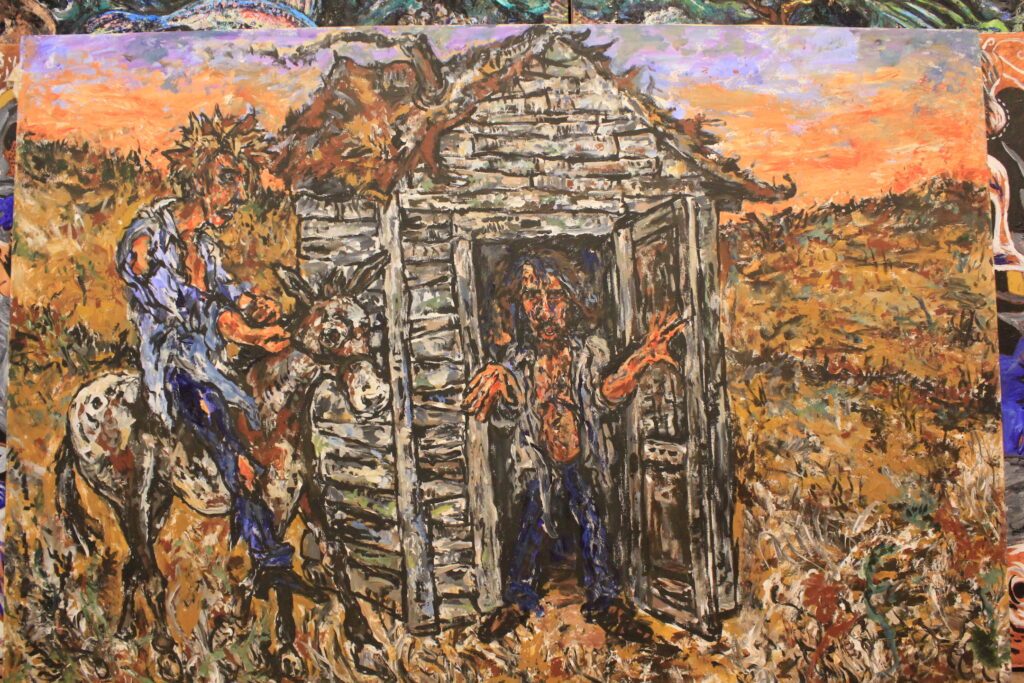 Despite being the kid who got in trouble a lot in school for laughing too much, he's attracted to intense films, literature and pictures. "I don't know why," he says. "It's just a predilection. I had a pretty safe, nice environment as a kid. Maybe it's that: I thought that if I was going to stay in that environment I was going to die [laughs]. I didn't realize that I'm going to die anyways!"
Gary brings the strength and determination of his hometown of Detroit to his work, having moved away from home to downtown Detroit in the 70s, which was "a pretty scary place, but I loved it. It was freedom". He got his BFA at Wayne State University in Detroit in 1980, then moved to Baltimore to MICA for his Master's from 1989-1990. He moved to Manhattan in 1982 and has worked in construction ever since. He has continually painted all these years except for ten years when he was helping to raise his children.
In 2004, he moved to the Catskills, where he had been vacationing for years, after having had enough of New York. "I had always lived in urban environments and this is area is very seductive". When I ask him if he would be interested in teaching, he responds a resounding yes. Potential for an art college in the Catskills, perhaps?
I confess I know nothing about abstract expressionism as he refers me to some of his inspirations. His biggest influences are James Ensor, Albert Pinkham Ryder, Tintoretto. He likes a lot of medieval art like manuscripts, and Arshile Gorky, Philip Guston, among others. He studied under Grace Hartigan, who was his professor at MICA, who gave him free reign to explore his art. "She just let me go."
"She didn't guide you?" I ask.
"I'm not very guidable," he responds, but adds: "she did give me some critique, but by the time I went to grad school, I was 30, so I was on a path".
It's his sketching that I'm a fan of, having been drawing with him for years. In his studio, I spy an ink drawing of Putin, a grazing buffalo, a self-portrait of the artist peeking over the top of a boat that's rocking fiercely in high seas. ("Yeah, I'm not laid back," he confirms at one point.)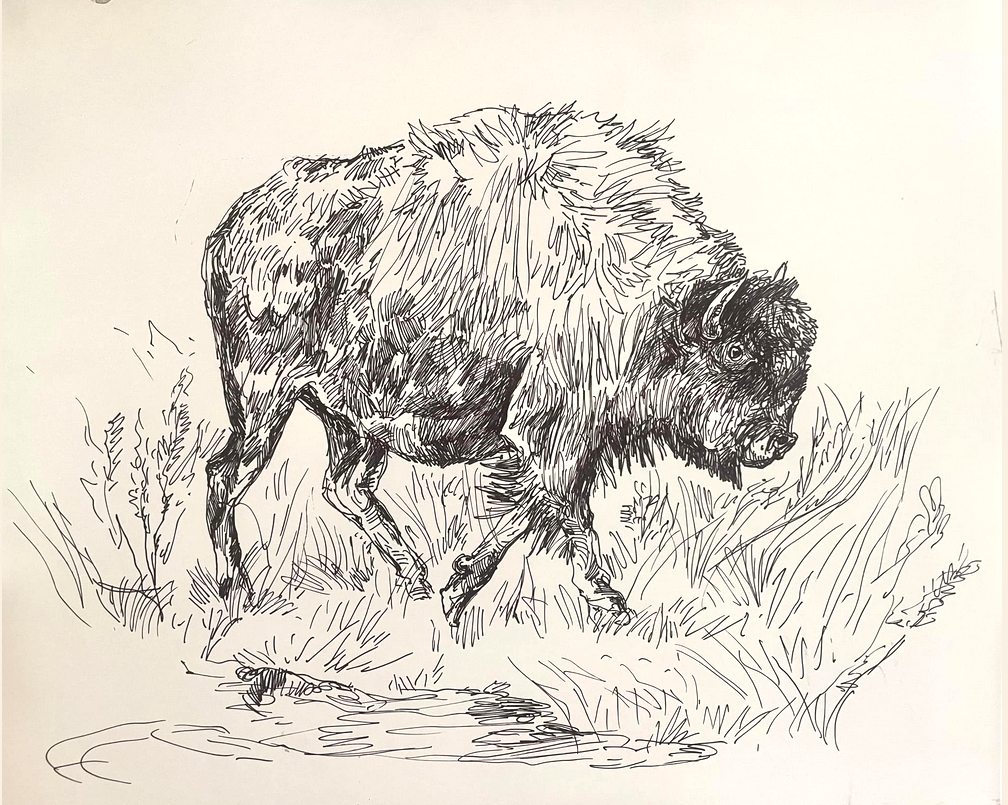 At the moment, he's working on a large canvas that it takes minutes for us to uncover: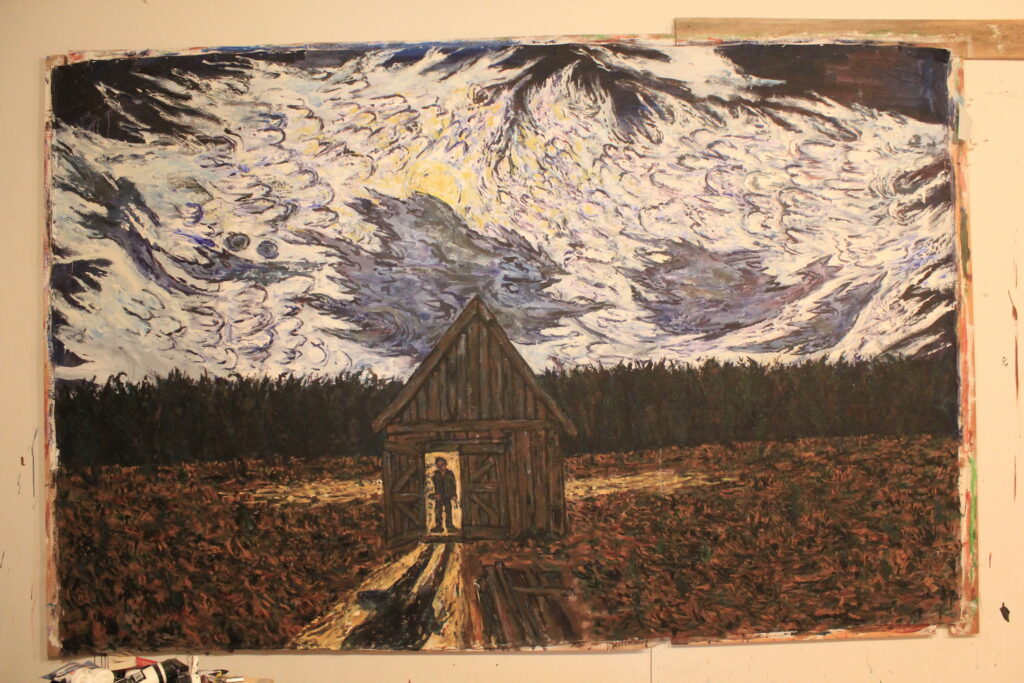 Bill Lynch is currently working on a film centered on him that should be finished by the summer. This weekend, he opens his new art gallery Art Up in Unit 4, Binnekill Square, off Main Street, Margaretville, NY. The gallery is open: Friday 12-7pm; Saturdays 12-7pm; Sunday 12-4pm; Memorial Day Monday 12-4pm. Follow Gary Mayer on Instagram.
Text and Photos by Jenny Neal