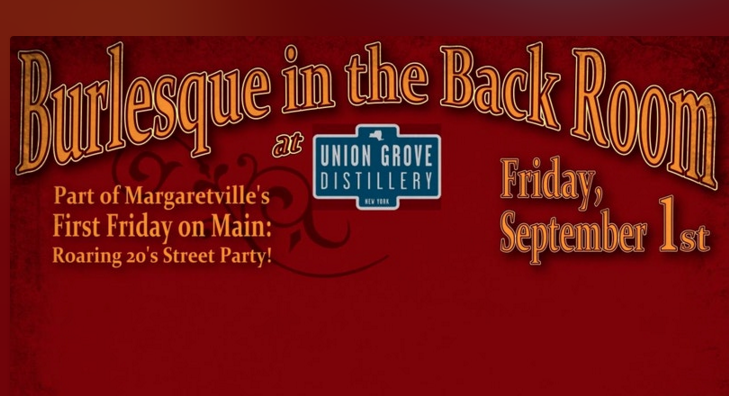 Tonight
Burlesque is back in the Catskills. Tonight at Union Grove Distillery beginning at 8.30pm. Buy tickets here, or they are available on the door. Seating is first come, first served. Just Shop Boutique, across the road, is open until 8pm.
Saturday 2nd
John Burroughs Woodchuck Lodge hosts its penultimate Wild Saturday at 1pm at Woodchuck Lodge in Roxbury entitled Face to Face with Raptors, in which Annie Mardiney, federally licensed wildlife "rehabilitator", shares her deep passion by bringing hawks, owls, and falcons to show visitors.
Family Day at the Catskill Interpretive Center: bird watching, hiking, crafts, rock painting, learning to identify animal footprints and more from the natural world.
Logic and Structure at the Painters Gallery in Fleischmanns, a group show featuring Beth Caspar, Susan Spencer Crowe, Joan Grubin, Robert James, Wanda Kossak, Don Muchow, Margaret Neill, Paula Quinon.
Saturday night sees the annual lighting of the fire towers at 9am. Find out where the best places to view them are. The Catskills Fire Tower system celebrated 100 years of watching for wild fires over the Catskills this summer.
Sunday 3rd
Sunday is Bovina Farm Day, featuring farm animals, a corn maze, the scarecrow contest and vendors selling and sampling locally produced products.
Apple pie contest is between 2-3pm. $6 per car and a full day of family fun!
Next week:
From September 6th to 12th: Watershed Stories from the Catskill Center, . Led by Lisa Jacobson, these workshops were designed to provide a unique holistic, visual and written product based on "Art as an EcoSystem". To do this, participants recycled beautiful old books into a retelling of water, the New York Watershed and its interconnections with everything else.
September 7th: Catskill Cuisine with Chef Rob Handel at the Catskill Interpretive Center in Mount Tremper.
And…
A new bus service to bring people to the Catskills.