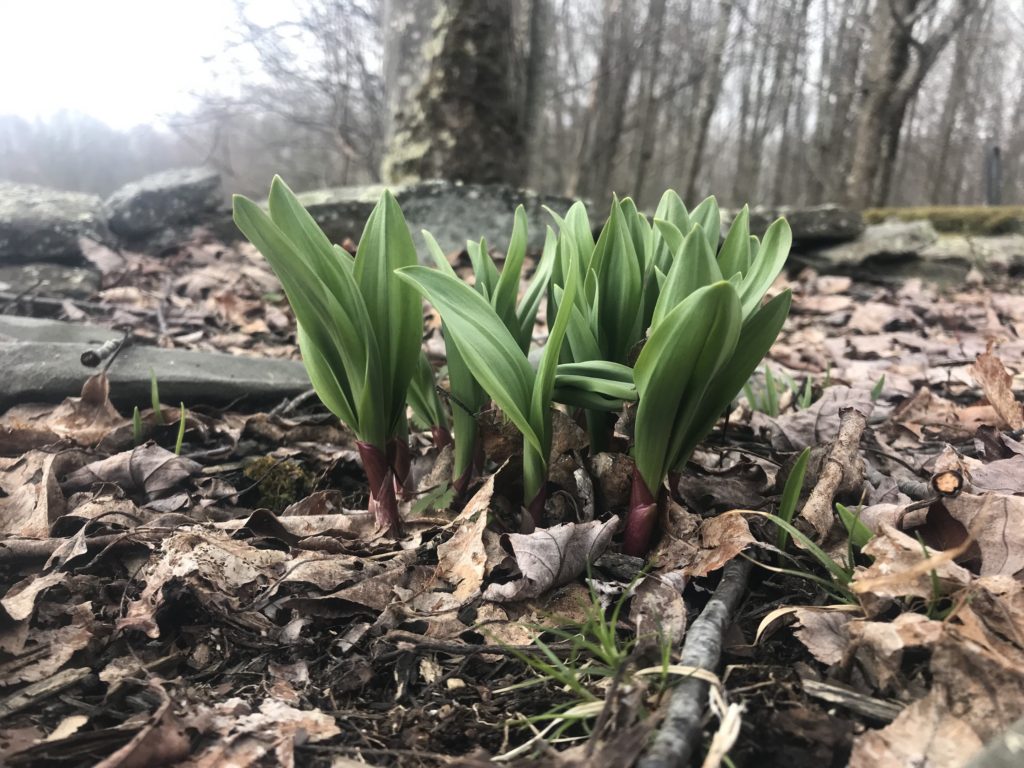 Here in the glorious Catskill Mountains, locals used to pick ginseng, wild leeks (ramps), chanterelles, and other rare delights in a sustainable fashion, but now we have visiting hikers ripping out all the ramps, bulb and all, to take home, or marketeers hauling out ramps by the truckload in garbage bags to sell downstate at markets. So now we must conserve – or transplant. Foraging is a great way to supplement your diet and reduce your carbon footprint. Sustainable foraging is essential, or our rare delights may disappear.
Here at Upstate Dispatch, we transplanted three wild ramps years ago that add a bunch to their number every year and they seem to love it where they are (pictured above). The secret is to plant them somewhere wet and shaded with plenty of tree cover, a place that sometimes gets boggy in rainy periods or where you find lots of mossy carpeting instead of grass.
Until recently, seasonal eating was once a relic of our agrarian past, like that quaint anachronism Sunday best. Sunday best is definitely as dead as the dodo in this consumer age and ramps will be gone too if we don't harvest sustainably. Because of there rarity, they're very popular and seasonal eating is making a big comeback in certain areas.
If you're foraging on public land, only take some of what you find and only take the leaves by cutting above the bulb. Don't remove the entire ramp.
Please do not pull ramps like this, pictured below, unless you're picking on your own property.