We've waited all winter for a lot of things and Pizza Night at Lazy Crazy Acres Farm in Arkville is one of them. You can't spit in the Catskills without hitting good pizza and Lazy Crazy Acres' delicious pies are up there with the best, hand made right in front of you in their outdoor oven. Lazy Crazy Acres is a picturesque, rural homestead nestled in Rider Hollow by a roaring brook, with chickens, kittens, a barn, maple syrup for sale ($10 a pint), a kids' play area, a rhubarb patch and hay rides up to their ridge above the farm that boasts stunning 360-degree views of the Catskill Mountains.
Last night was a trial run, buffet style, and every pan emptied minutes after the pies were served. Friends, colleagues and neighbors hung out mid-week, family style, chatting, eating and watching the sun go down in a blaze of red glory. The pies are tasty and filling, yet light and airy with a wide variety of toppings.
Until Columbus Day, catch Pizza Night on Saturday nights at Lazy Crazy Acres, an evening to which you can bring the whole family, a gorgeous Catskills gem that happens to be on the way to the parking area for six Catskills 35 hikes. Balsam, Eagle, Big Indian, Doubletop, Graham & Fir (Map 142 NYNJ Trail Conference) are all accessible from the Rider Hollow parking area, but Dry Brook Road parking area is quickly and easily accessible from Rider Hollow Road, via Todd Mountain Road.
Take a Saturday hike and get local pizza in a magnificent setting for the perfect outdoor weekend jaunt.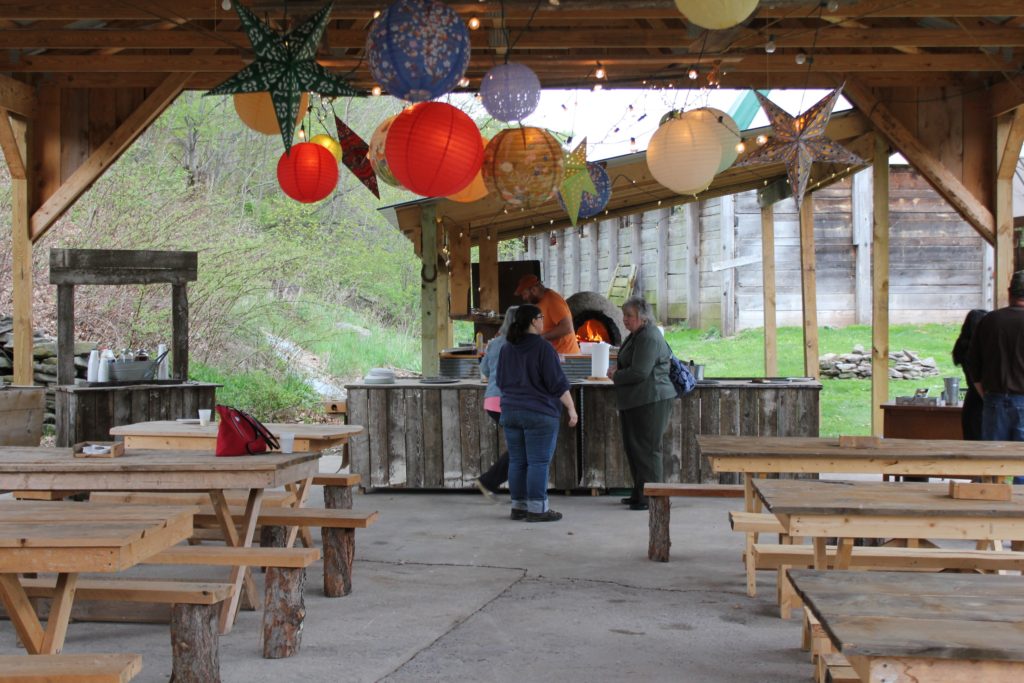 © J.N. Urbanski